Toy Story 3 felt like the perfect way to end the Toy Story franchise. It took background themes from Toy Story 2 and brought them to the forefront in the third movie. The toys realized in Toy Story 2 that Andy would eventually out grow them, and that happened in 3. Thankfully, the toys also met their new kid at the end of the movie, in a moment that was more emotional than I expected going into the movie. It felt like there really wasn't anywhere else for the franchise to go.
Thankfully, Toy Story 4 proves that wrong, and in unexpected ways as well.
Back when Toy Story 3 released in 2010, Pixar stated they weren't working on a fourth entry at the time. Actors Tom Hanks and Tim Allen did sign on tentatively to a fourth movie in case it would ever be made however. Rumors started floating around when Hanks said a fourth movie was in the works, however Disney repeatedly denied those rumors at the time, and kept denying it well into 2013.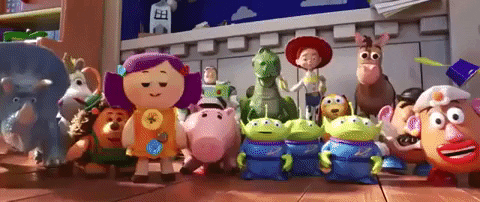 Then they announced plans for a fourth Toy Story during an investors call in 2014. At the time, John Lasseter (co-founder of Pixar, and director of the first two Toy Story movies) was slated to return to the director's seat for the fourth entry. He said, "Toy Story 3 ended Woody and Buzz's story with Andy so perfectly that for a long time, [Pixar] never even talked about doing another Toy Story movie. But when Andrew, Pete, Lee and I came up with this new idea, I just could not stop thinking about it."
With all his commitments to Disney and Pixar at the time, Lasseter stepped away from the film, and then the sexual harassment allegations popped in. The original script writers also left the project over philosophical differences, and were replaced by Stephany Folsom and Andrew Stanton (who co-wrote all four movies and directed Finding Nemo, Finding Dory and WALL-E). Josh Cooley makes his feature directorial debut, after working as a storyboard artist for a number of Pixar movies since The Incredibles, as well as writing and directing Riley's First Date (an Inside Out related short film).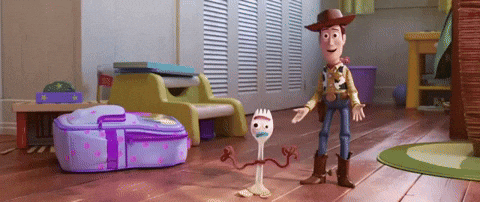 Early on, various figures at Pixar described Toy Story 4 as a romantic comedy. They brought back Bo Peep, Woody's love interest who was given away at some point between Toy Story 2 and 3, thus not appearing in the third film. This movie even starts with a flashback to the moment Bo Peep was given away. For the rest of the movie, Bo Peep turns out to be a lost toy, which is something Woody's feared over the course of the series.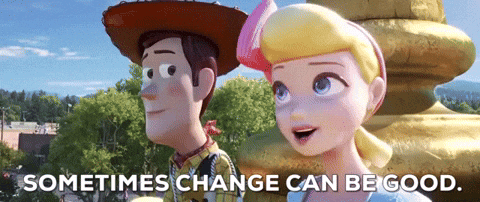 They also stated in various interviews that Bo Peep's newfound independent spirit was planned from the beginning, and not in response to any cultural movement. I've got to say, it feels natural and not the least bit forced, as responses to cultural movements often feel. Anne Potts, who voiced Bo Peep in the first two movies, makes a glorious return here, greatly expanding on Bo Peep's character.
Sadly, before voice recording began, Don Rickles passed away from kidney failure. Rickles voiced Mr. Potato Head in the first three movies. Thus, this movie is dedicated for him. With his family agreeing with the idea, Pixar was able to pull various unused lines from the previous movies, as well as video game dialogue and other works to complete his role as written. Apart from that, most of the voice cast from previous movies returned for this one.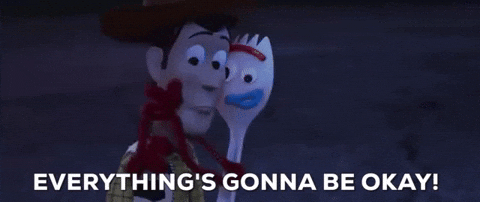 New cast members include Tony Hale as Forkie, a toy that Bonnie created out of trash that somehow comes to life. When asked about the role, Hale said "A utensils existential crisis? I'm in!". At first he's mostly played for laughs, but as the movie goes on, he contributes a lot to the movie's drama and Woody's own character development.
Keegan-Michael Keen and Jordan Peele join the cast as a pair of carnival prize toys, and their role is mostly comedic. Keanu Reeves plays a stunt bike toy in another really entertaining role, most of his lines ad-libbed. Apparently, he was asked out of the blue to join the cast, and he did not hesitate to jump in. And last but not least, Christina Hendricks joins the cast as Gabby Gabby, an old doll who's been stuck on the shelves in an antique shop for years. She sort-of plays an antagonist role, but she ultimately just wants to experience the love of a child the way Woody did. By the end of the movie they come to an agreement, and it even leads to two of this movie's surprisingly emotional moments.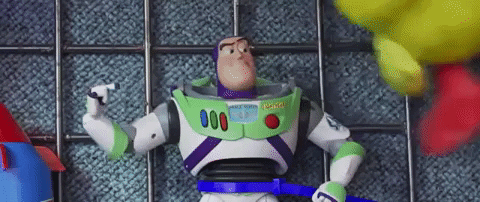 So far this movie is doing very well. In just over a month, it's earned over $700 million worldwide, and it's still going strong. It broke The Incredibles 2's record for most pre-sales for an animated film, and on its opening day, it sold over 50% more than the three previous best animated films combined (Wreck It Ralph 2, Incredibles 2 and Hotel Transylvania 3: Summer Vacation). That alone is very impressive. It's also earned a 98% approval rating on Rotten Tomatoes, with an average score of 8.36/10. I believe Variety's review said it best.
"Toy Story ushered in the era of computer-animated cartoon features, and the fourth movie wraps up the saga beautifully. At least, for now."
I'm not sure how Pixar keeps managing to pull these Toy Story movies off, but they did. Toy Story 4 isn't quite as good as Toy Story 3, but it's not all that far off. Most of the film is an entertaining adventure movie, with the toys on a road trip with their new owner. After Forkie gets lost (thinking he's trash instead of a very emotionally important toy for Bonnie), Woody shows how truly loyal and determined he is. It shows how much he's grown as a character since he became jealous of Buzz stealing his thunder from Andy in the first movie. Here, he goes out of his way to help Forkie realize his value.
The rekindled relationship between Woody and Bo Peep is also very well done. At the point they reunite, they've got very different viewpoints on the world. Woody still sees the value in being owned by a kid, even if he's not played with as often as the others. Meanwhile, Bo Peep is joyous in her freedom. As they work together to get Forkie back, they have multiple disagreements, but they also grow to understand the other's point of view.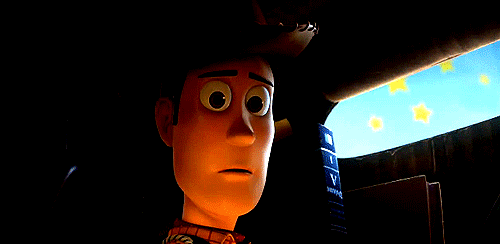 I won't spoil the ending, but there's a very emotional goodbye at the end, one that truly feels like this could be the end of the Toy Story franchise. It's a bittersweet ending, and a very well done one at that.
With all that said, this movie isn't without its issues. In previous movies, Buzz got just as much character development as Woody. Here, he's mostly played for comedic relief. A lot of the other toys also take a back seat compared to their previous appearances. Jessie in particular doesn't get to do much, and she was a major player with fantastic character moments in 2 and 3. It's great that Bo Peep is a much more realized character here, but in bumping her character up, this movie sacrifices other major characters. As entertaining as the carnival prize toys are, the movie is still very entertaining without them. By removing them, they could easily have been replaced with a bit more focus on these underutilized characters. Forkie and the antique store toys would have been enough for new characters.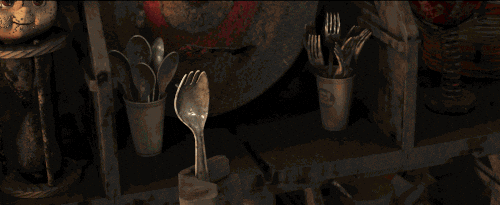 (This wasn't intended to be a reference at the time, but here's WALL-E playing with a spork, which is what Bonnie would use to make Forkie.)
As a whole, Toy Story 4 is much better than I expected. Judging by the comedic tone of the advertisements, I thought it would be much more lighthearted than it was. It is a very entertaining movie with some very heartfelt moments. It feels like a worthy conclusion for what is now a quadrilogy. It's just that Toy Story 3 was both funnier and more dramatic, and the original was an overall stronger film. In short though, Toy Story fans should see this movie. You will most likely not be disappointed.
Next up, I'll be looking at Spider-Man: Far From Home. Afterwards I may look at a couple DreamWorks movies to continue that long delayed blogathon. I've seen both of the next two DreamWorks movies before, and while Madagascar will be a bit of a chore, I am looking forward to re-watching Wallace and Gromit: The Curse of the Were-Rabbit. August will be Robin Williams month (still deciding on the exact list of films to watch), and then I'll probably begin my Disney Associated movies blogathon.