I apologize in advance if this particular entry may sound boring. If it does, that's because this movie bored me.
I haven't looked at any of these movies in almost a year, and there's a good reason for that. With Disney Animation Studios, most of the movies at least make an effort to be good. Even the bad ones are usually bad in an interesting fashion. With DreamWorks, the quality level is a lot more mixed. When they're on their game, they can be very good. DreamWorks's best animated movies even rival some of the Disney classics. But most DreamWorks animated movies lean more towards the mediocre range. Trying to go through all of them in a small amount of time is mentally draining. I do want to get through all the DreamWorks movies eventually, but this blogathon may take a long time.
The fact that this movie was next on my list didn't help my motivation.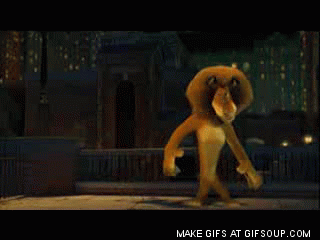 I've seen Madagascar before, on a plane ride. I forget exactly which vacation it was, but I could attribute that to the fact that I pretty much forgot about this movie minutes after I finished watching it. On my second viewing a couple of nights ago, I stopped paying attention half-way through and started playing video games. That says something about this movie's entertainment value.
I'm not saying Madagascar is bad by any means. The characters aren't annoying, and you at least know their motivations. Chris Rock's Marty (A zebra) is bored with living in a zoo. He wants to see what else the world has to offer. Ben Stiller's Alex (a lion) on the other hand loves living a pampered life. He loves living the celebrity life as "king of the zoo". Despite these very different outlooks on zoo life, they're best friends. Thanks to the chemistry behind the voice acting, they're convincing as best friends. That's probably the nicest thing I'm going to say about this movie.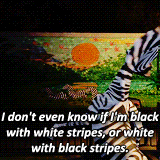 You've also got David Schwimmler as the germaphobic giraffe, Melman, and Jada Pinkett Smith as Gloria the Hippopotamus. They're ok, but they don't really add much to the movie. Rounding out the main cast are the four penguins.  The four penguins are working in their plan to escape the zoo and move to Antarctica. Feeling the need to escape the zoo, Marty asks them for advice, and ends up following them out. The other three big animals try to find Marty and convince him to return, and they're all hit with tranquilizers after they reach Grand Central Station. Instead of returning them to the zoo, they decide to send the group of animals to a wildlife reserve in Kenya.
The penguins' antics make sure they don't reach Kenya.
The rest of the movie shows the zoo animals living the free, wild life in Madagascar, along with a bunch of monkeys who think they're a lot cooler than they really are. I find them mildly annoying and obnoxious. They spend more time singing popular dance songs from the early 2000's in fake African accents than they do trying to be actual characters. There's also a brief conflict where Alex, who's used to being fed raw steak, starts feeling his predatory instincts. That could have been an interesting conflict if anything was done with it, but he kind of brushes that aside to scare away the fossa (a predator from Madagascar that starts terrorizing the monkeys). Then there's the easy solution where the penguins start feeding Alex sushi, solving his predatory instincts problem.
There is more to the movie's story and character development, but who really cares? This movie has its fans, and it's true that the sequels were better received, but the first received a mediocre 54% rating on Rotten Tomatoes. The general consensus was that the movie might be alright for younger kids, but the humour is very hit and miss for adults. The animation, while good at its time, hasn't aged well either. A lot of the animations feel unnatural by today's standards. It helps that it's a colourful movie so that it doesn't look ugly by any means. On the downside, most of the character models are fairly plane and featureless, beyond the basic colours of their respective animals.
I can barely find any behind the scenes details on this movie. The most I found is that DreamWorks was working on a Beatles spoof starring penguins, called Rockumentary. That idea was scrapped, but the penguins in this movie are at least partially inspired by that idea. That and Ben Stiller was the first member of the voice cast hired for the movie. It was co-directed by Eric Darnell (who also co-directed Antz) and Tom McGrath (made his directorial debut with this movie, and would also direct Megamind and The Boss's Baby along with Madagascar's sequels).
I'm guessing that with so little behind the scenes information available online, most people have forgotten about this one. If you enjoyed this as a kid, you might still enjoy this for nostalgic reasons. I for one plan on forgetting this movie ever existed, at least after I get through Madagascar 2, 3, and the spinoff, Penguins of Madagascar.
The next DreamWorks movie is one I actually look forward to watching again, Wallace and Gromit: The Curse of the Were-Rabbit. After that it's Over The Hedge, which I actually kind of liked when I saw it years ago, followed by Flushed Away and Shrek The Third. Flushed Away might be alright. Can't say I'm all that excited about Shrek The Third since I didn't think much of what I've seen of it, but I might as well finally watch it. I'm not yet sure when I'll look at anything after Wallace and Gromit though. Next month will be Robin Williams month.