To properly talk about this movie to unknowing audiences, one should talk a bit about Aardman Animation first. I introduced the studio in greater detail in my Chicken Run review last year, but to sum it up, they're a British animation studio that tends to focus mostly on stop-motion Claymation.  However they've also worked on cgi animation and have involved themselves in the development on video games based on their properties. They've won multiple Academy Awards for their animated shorts, including two of their four Wallace and Gromit shorts (both others were nominated). One of those shorts (A Close Shave) even spawned a spinoff movie, Shaun The Sheep Movie, which also earned a nomination for best animated feature.
Aardman and DreamWorks agreed to a distribution deal in 1997, where DreamWorks would help finance and distribute Aardman's first five feature films, the first being Chicken Run. Some of the planned movies would include an adaptation of The Tortoise and the Hare, DreamWorks' 13th animated movie Flushed Away, and of course Wallace and Gromit: The Curse of the Were-Rabbit. The Tortoise and the Hare was never made, despite being originally planned as Aardman's second feature film.
The gifs aren't just from the movie, but some are also from the shorts.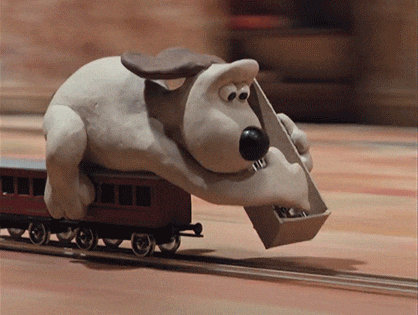 Chicken Run was a major success, earning back nearly 5 times its budget. That's when Aardman started moving forward with their Wallace and Gromit feature, to be released 10 years after their most recent short (A Close Shave).
The Wallace and Gromit series first began in 1989, when the first short released. A Grand Day Out introduces Wallace, a good natured yet somewhat absent minded inventor. His inventions, while impressive, rarely work as intended. Gromit is his dog (beagle), who is very loyal, arguably more intelligent than Wallace, and definitely more level headed. Since Gromit never utters a sound in the entire series, his communication and thoughts are shown entirely through facial expressions and body language. In the original short, Wallace is preparing to eat a snack when he realizes that they're out of cheese. Being obsessed with cheese, Wallace immediately starts trying to figure out a way to get more. What is the first solution that comes to mind? Why, building a rocket and traveling to the moon of course. The moon is made of cheese, right?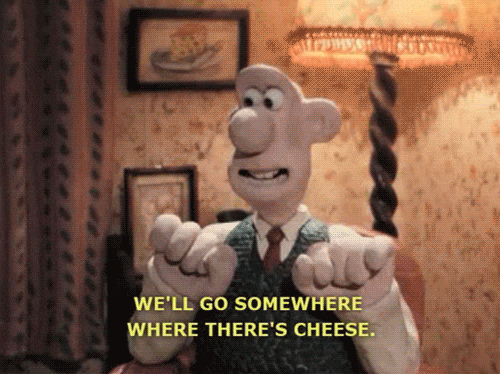 That's the kind of humour at display in this series, and it works quite well. The first short can feel a bit slow at times and it's fairly straight forward, but it's still entertaining. Each short released after that is better than the last, with a bit of a crime story in "The Wrong Trousers", a touch of mystery in "A Close Shave", and in the 2008 short "A Matter of Loaf and Death" it goes for a straight murder mystery. It's also got the fastest pace of the shorts. It had enough ideas for a full movie, but it doesn't feel like it's rushed or overly short as a short film either.
Claymation is a lengthy process, with the animators needing to carefully move the plasticine figures for every single frame. They'd then take pictures of the models. This is especially time taxing when  you've got dozens of characters in the same shot, which happens multiple times in this movie. The Curse of the Were-Rabbit was announced in 2000, and the production began pretty much right away. The movie released in 2005. That should give you a rough idea of how long the Claymation process can take.
Nick Park, the creator of Wallace and Gromit, co-directed the film with Steve Box. Box previously worked on several of the shorts, as well as the Spice Girl's final music video before they started to break up, "Viva Forever".  Early on in production, they started having creative differences with DreamWorks. For one, DreamWorks wanted them to give Wallace a trendier car, while they stuck with the Austin A35 (which stopped being made in 1968). Further disagreements helped lead DreamWorks and Aardman severing ties a couple years after Wallace and Gromit released. Park also talked openly about how difficult he found it working with DreamWorks and all the notes he was given to alter the movie, to appeal to American audiences better.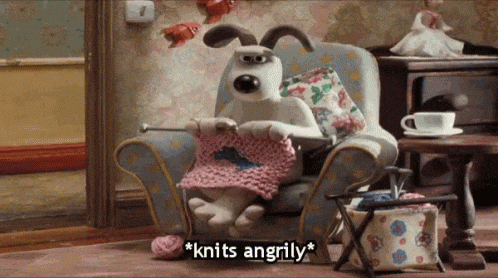 Despite these creative differences, The Curse of the Were-Rabbit earned just short of $200 million on a $30 million budget. It also received a lot of critical praise, earning 95% on Rotten Tomatoes. It ended up winning the Academy Award for Best Animated Feature, plus 10 Annie awards, the BAFTA for Best British Film, and a number of other accolades. It is to date the second highest grossing Claymation movie of all-time, behind only Chicken Run.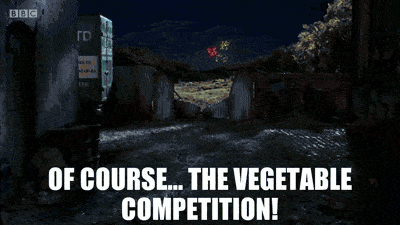 This really is a great movie, deserving all of its praise. It's got subtle British Humour, a fairly good story, and some fantastic animation work. The vocal cast is clearly having fun. The late Peter Sallis is very likeable as Wallace, who captures his good nature, his confusion, and his brilliance perfectly. Ralph Fiennes is awesome as the arrogant Lord Victor Quatermain. His performance oozes charisma and confidence. Helena Bowham Carter is classy as Lady Campanula Tottington. In other words, she's the total opposite character as her portrayal of Bellatrix Lestrange in Harry Potter.
Park jokingly described this movie as the world's first "vegetarian horror film". It's not really a horror movie, but there are touches of a horror plot in what is mostly a comedy. Oh, and it also features Hans Zimmer as the soundtrack composer. That was a welcome surprise as I was watching the opening credits.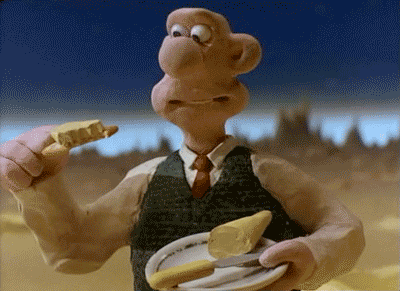 I would highly recommend this one. The shorts are also worth checking out if you haven't seen them already. And with both recent re-releases for both the shorts and the movie in both physical media and digital, it's not hard to track them down. The Wallace and Gromit franchise has a charming feel, with unique animation that's well done, clever humour, and a lot of creativity.
Next month I'll be looking at a bunch of Robin Williams movies. I'm not sure what the exact lineup will be just yet, but I'm strongly considering Good Morning Vietnam as a good way to kick it off. I'm also not sure when I'll get back to DreamWorks, but once I get clear of the early-mid 2000's, the average quality of their movies do start to improve.