In the world of entertainment, Robin Williams was unique. Before making his way into the film industry, he was already a successful stand-up comedian. He possessed a childlike energy that, combined with his intellect and timing, made him a comedic genius. He was known to be good at improve comedy, best showcased by his episode-long appearance on Whose Line Is It Anyway? Not only was he funny, but he blew away the show's regular cast, and they're all legends in their own right. But he was also a great dramatic actor, capable of making you laugh one minute and tear up the next. There are other actors who are capable of both making you laugh and cry, but none did it as well as Williams.
He also suffered severe depression through most of his life, but we'll get to that in later installments of this series.
A number of comedians over the years cited Robin as their influence. Jim Carrey impersonated some of Williams' routines early in his career. Judd Apatow described his comedy style as a rapid fire improvisational style that many found to be inspirational, yet none could even hope to keep up or attempt to replicate. Williams himself described the likes of Peter Sellers, Lenny Bruce, and Nicols and May as some of his own influences, noting their ability to attract a more intellectual crowd. He considered Jonathan Winters as a bit of an idol in his early life, after first seeing his comedy on TV at the age of 8. He often paid homage to Winters in interviews throughout his career. Of Winters, he once said,
"Anything is possible, that anything is funny… He gave me the idea that it can be free-form, that you can go in and out of things pretty easily."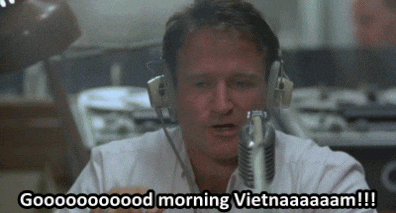 Williams's beginnings into the film industry didn't go too smoothly. Sure, some of his starring roles were profitable (Popeye, The World According to Garp), but Good Morning Vietnam was his true breakout role. Good Morning Vietnam earned over $123 million, which for a comedy released in the 80's, is a lot, especially for a movie with a $13 million budget. In fact it was the fourth highest grossing movie of 1987 (the year I was born by the way). Granted this movie is just as much of a drama as it is a comedy, with touches of a war film, but it's mostly treated as a comedy.
Good Morning Vietnam was also praised by critics, with Siskel and Ebert both giving it thumbs up, and Ebert giving it 4/4 in his written review. Time Magazine called it the best military comedy since M*A*S*H*. New York Times called it a cinematic "tour de force", and described Williams' performance as "the work of an accomplished actor". Williams even received an Academy Award nomination for best actor, losing to Michael Douglass in Wall Street.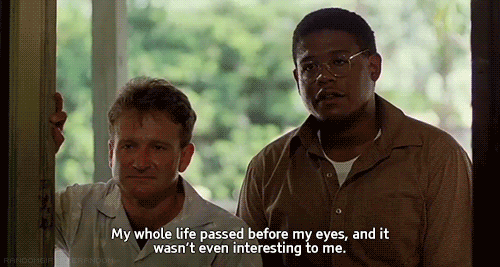 In case you weren't aware, Good Morning Vietnam is loosely based on a true story. Very loosely of course. Williams portrays the real life Adrian Cronauer, who served as a radio host for the US army during the Vietnam War for about a year, while also teaching an English class. Besides hosting the show and leading the class, the only other thing this movie has in common to Adrian's real story is that he was near an explosion set off by a terrorist, personally witnessing some of the carnage.
The real life Adrian was fine with this though. "I'm very happy with it. Of course, it was never intended to be an accurate point-by-point biography. It was intended as a piece of entertainment, and (Williams) was playing a character named Adrian Cronauer who shared a lot of my experiences. But actually, he was playing Robin Williams." He also said that while none of the other military characters in the movie actually existed, they were based on stereotypes at the time.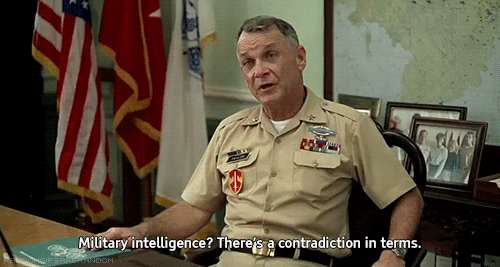 Cronauer also said that he and Williams were forbidden to meet each other during the filming, and were never properly introduced until the premier.
Cronauer pitched the idea for a sitcom based on his experiences as early as 1979. Nobody accepted it at the time, saying that war was not comedy material … even though M*A*S*H* had already been successful for 7 seasons by that point. He then revamped his pitch into a movie, tightening down the script, which eventually got Williams' attention. Although very little of his script survived Mitch Markowitz's writing, he is still credited for the story. Barry Levingston soon signed on to direct the film, which was produced by Touchstone Pictures and distributed by Walt Disney Studios.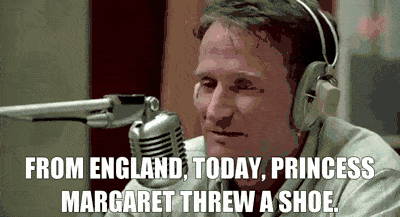 I've heard throughout the years how good this movie was, but I never found the time to watch it. I'm glad that I finally did. This movie lives up to its reputation. It's primarily a comedy, showcasing Williams' improvisational talents and his unique wit. However the movie also touches on the darker aspects of the Vietnam War. It touches on how a lot of the Vietnamese didn't care much for the American interference, without going into too much detail. It touches on how the military was trying to hide how the war was really going from their soldiers.
After personally witnessing a terrorist bombing, Arthur attempts to share on the air what happened, only to immediately get cut off. This, along with his many arguments with his commanding officer, leads to one major dramatic segment of the movie where he starts doubting himself. This is where Williams gets to showcase his dramatic talents, which he'd continue to do throughout his career. There's another moment towards the end that I won't spoil, but it's a brutal twist in more ways than one.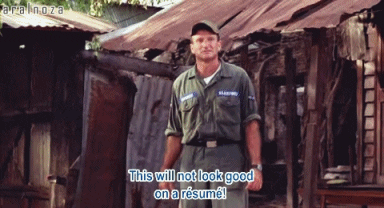 As for the comedy, it gets a bit crude, but it's never over the top, nor does it feel unrealistic for its setting. Of course if Cronauer did half the things that Robin portrayed in the movie, he'd be dishonorably discharged quickly, if not court martialed. But this is a comedy. It's not meant to be taken too seriously. Williams makes fun of Richard Nixon with a mock interview, not too different from the fake interviews that can be found on Weird Al's YouTube channel from a few years ago. He starts teaching his English class street slang, much to his students' delight. Perhaps the best comedic scene is when, while feeling down, he's brought to a bunch of soldiers and starts doing an improve scene right there.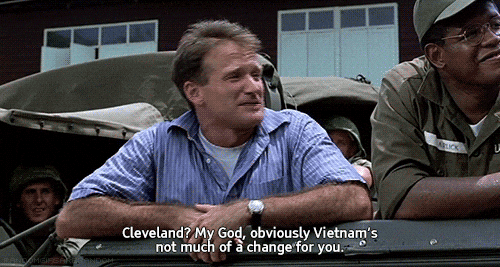 He starts throwing jokes at all the soldiers and where they're from and their names. It's such a great moment, and it feels like every second of it was improvised on the spot. There are a lot of memorable comedy routines in this movie that would make this worth watching alone. The dramatic moments only enhance this movie as a whole.
I honestly can't think of any real criticisms for this movie. It was a delight to watch when it's trying to be fun, and it's hard not to feel for Williams' character when he's down or when he's straight up betrayed. And as much as the movie leaves us with some devastating twists at the end, it still leaves us on a high note.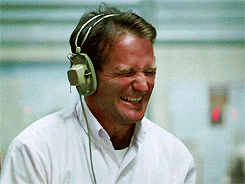 This isn't quite Robin Williams at his best, but it's a highlight in his career. This is well worth checking out for his fans who somehow haven't seen it yet. Next up, I'm going to look at the movie that earned him an Oscar, Good Will Hunting. After that, I'll look at one of my childhood favourite movies of his (haven't decided which one yet). I haven't decided what movie 4 will be yet either, but I'm considering either Hook or Boulevard (the last movie he filmed before his death). I might also do Night at the Museum, even if he's not a starring character in that one. Or I might do Dead Poet's Society, and save the childhood favourite for my 4th and final entry. There are so many great choices though – it's hard to pick only four. I might need to do a second Robin Williams month at some point in the future just to cover some more of these movies.