I was kind of split on whether to tackle this or Goodwill Hunting first. Dead Poets Society and Goodwill Hunting are often regarded as Robin Williams' best performances. But considering this is the weekend I'm switching from evenings to mornings and I didn't get a lot of sleep last night (mostly intentional), I felt it would be easier to go with the movie I've seen before.
Dead Poets Society takes place in a fictional, elite all-male private school. It's a very well-crafted drama about a group of boys at this prep school. Robin Williams plays John Keating, a former graduate who is their new English teacher, after the old teacher retires. Many of these students, most notably Neil (played by Robert Sean Leonard) are pressured by their parents into specific careers. As much as this is a very elite school, it's also very strict with its lesson plans.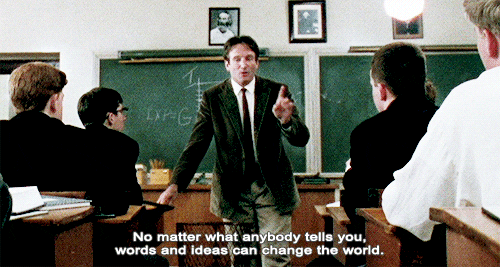 Although Williams does touch on his comedic talents at times, he focuses a lot more on the dramatic side in this performance. He plays a slightly eccentric and definitely unorthodox English teacher. While most classes adhere to their strict curriculum, John's main goal is to help these students become free thinkers. He wants these students to find their true passion and go for it, instead of merely following their parents' wishes. In doing so, he inspires a number of his students to form a secret club, the Dead Poets Society.
Neil's father wants him to be a doctor. In fact he's so insistent on Neil becoming a doctor that he pretty much orders him to take on less extra-curricular opportunities. You can tell from early on that Neil doesn't want to be a doctor. But he's not sure what he wants to be, nor does he have the courage to stand up to his father. Todd Anderson (played by Ethan Hawke), is another major character. He's a shy student who is the younger brother of a former Valedictorian.  Multiple teachers put pressure on him right away by saying he's got big shoes to fill.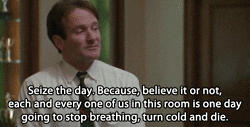 Through John's methods, Neil discovers his love of acting, while Todd comes out of his shell and gains a lot of confidence. Through Williams's performance, you believe these kids are inspired. He puts so much energy and passion into the role that you kind of wish you had a teacher like him. Yet there's a balance. He also wants his students to have successful careers, and he discourages too much rebellion for that reason, especially after one student gets in trouble for publishing an article in the student paper arguing that girls should be allowed at the school.
As much as this is a generally upbeat movie, it touches on some dark material with its very tragic moment. I won't spoil exactly what happens or to who, but this movie does feature a suicide, followed by unjust shifting of blame. It takes a hard look at what too much pressure can do to a young man's psyche. It leads to a bittersweet ending involving a rebellious farewell, which again is something I don't want to spoil.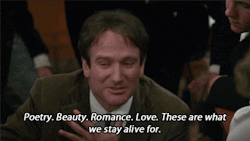 I couldn't find too many behind the scenes details, but Dead Poets Society released in 1989 and ended up earning $235 million on a $16 million budget. It was very well received critically, earning an 84% on Rotten Tomatoes. It also earned the Academy Award for Best Original Screenplay, while also giving Robin Williams his second nomination for Best Actor. Ironically, both Roger Ebert and Gene Siskel gave it negative reviews. Ebert criticized Williams for "spoiling" his dramatic performance by occasionally slipping into his on-stage comic persona. When the movie received the nomination for Best Picture at the Academy Awards, Ebert called it the worst nomination for the category.
It was directed by Peter Weir, who would go on to direct what is one of my favourite movies, The Truman Show.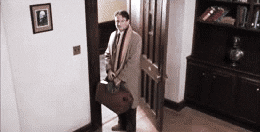 Yet this movie's enjoyed a lasting legacy. It's often regarded as one of Williams's best performances, and among the best movies he ever appeared in. It's an inspirational story about a teacher who cares about his students more than the elite school's politics, and how he broadened his students' perspectives on life. It showcases not only his passion, but his wit and energy with minimal use of comedy. It's a movie that proves that Williams was more than just a comedian. Even if you're not familiar with Robin Williams, though, this is worth recommending. It's a good movie regardless of who's in it.
Next up is Goodwill Hunting. I think I've decided to wrap this month up with either Jumanji or Hook, two movies that I enjoyed as a kid and still enjoy now. They're not what I would call brilliant movies, but they're nostalgic to me. I may need to do a second Robin Williams movie at some point as well, because there are plenty more of his movies I'd like to look at some day. But next month, I'll be starting my look at the Disney Animation Studios associated movies. I'd probably go month on, month off with this set of movies to break it up, but the first three would be The Reluctant Dragon (1941), Victory Through Air Power (1943) and the very controversial Song of the South (1946).