When I first planned on doing this Robin Williams theme month, I wasn't aware that August 2019 was actually the fifth anniversary of his death. This wasn't planned, yet it just feels right. So instead of looking at the background behind this movie, let's take a brief look at what happened.
I couldn't find much concrete data to go on, but there's a lot of evidence that comedians have unusually high depression and suicide rates. One quick google search will find you lists of dozens of comedians who have killed themselves within the last 20 years alone. Speaking as someone who worked with someone who committed suicide about 10 years ago, that kind of hits me hard.
Early on in his stand-up comedy career, Robin Williams started succumbing to the stress and fell hard into alcohol and drugs. He said that while he never took anything while on-stage, he would occasionally perform while still hungover from the previous night. He also stated that his use of cocaine often made him feel paranoid while on-stage. He once described the life of a comedian as,
"It's a brutal field, man. They burn out. It takes its toll. Plus, the lifestyle—partying, drinking, drugs. If you're on the road, it's even more brutal … They flame out because it comes and goes. Suddenly they're hot, and then somebody else is hot. Sometimes they get very bitter. Sometimes they just give up. Sometimes they have a revival thing and they come back again. Sometimes they snap. The pressure kicks in. You become obsessed and then you lose that focus that you need."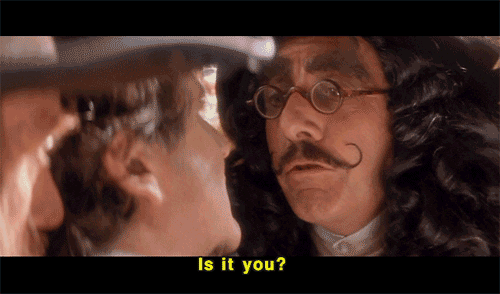 Thankfully, when his friend and fellow comedian John Belushi overdosed on cocaine, Williams quickly kicked that habit. The birth of Williams' son Zak, also helped. "Was it a wakeup call? Oh yeah, on a huge level." He instead took up cycling as a substitute for drugs, something that later became a passion for him. He eventually acquired a large bicycle collection, and often travelled to competitive events as a spectator, like the Tour de France. A couple years after his death, his children donated 87 of Williams' bicycles to the Challenged Athletes Foundation. He never completely kicked his alcoholism though, going into brief stints of rehab even into the last 2000's.
He was also a long-time enthusiast for gaming, both with pen and paper RPG's and video games. He was particularly a fan of the Legend of Zelda series – even naming his daughter Zelda. He appeared in a couple Legend of Zelda commercials with said daughter.
https://www.youtube.com/watch?v=09wBn4ux3N0
https://www.youtube.com/watch?v=vu-N0ctQgKU
Williams also co-founded Comic Relief USA along with Whoopi Goldberg and Billy Crystal, an annual benefit for the homeless.
In March of 2009, Williams started suffering from health problems, which would worsen over the next few years. He postponed a one-man comedy tour to replace his aortic valve that spring. In 2014, he was diagnosed with the early stages of Parkinson's Disease. However autopsies revealed that he was actually suffering from Lewy Body Disease, which affects the protein in nerve cells and often leads to Parkinson's, Dementia and other problems. This led to a severe case of depression. In fact in an essay released two years after Williams' death, his wife Susan Schneider revealed that Williams' particular case was among the worst his doctors had ever seen. She said the early stages began in mid-2013, when Williams experienced a sudden spike in fear, anxiety, constipation, insomnia, sensory problems, trembling in his left hand and urinary difficulty. As it progressed, Williams experienced paranoia, extreme insomnia, memory loss and high levels of cholesterol. The cholesterol hinted at a high level of stress.
"Robin Williams was losing his mind and he was aware of it … he just kept saying, 'I want to reboot my brain.'"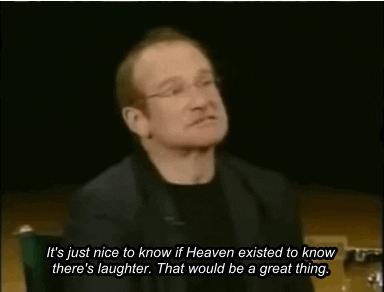 On August 11, 2014, Robin Williams hung himself. They said that no alcohol or illegal drugs were involved, and that the medical drugs he was using were at "therapeutic levels". We not only lost a brilliant comedian that day, or a talented actor. We lost a genuine soul who touched the lives of many.
What better way to finish this month off by looking at what might be the first live-action Robin Williams movie I ever saw? Hook.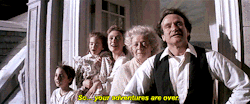 Hook, directed by Steven Spielberg, is an unofficial sequel to Peter Pan (I looked at the Disney version a few years ago). It features a grown, adult Peter Pan who is a workaholic corporate lawyer in the normal world. He spends so much time working that he barely finds time to connect with his kids. While his daughter still looks up to him, his son is starting to feel bitter and left out. But when his children are kidnapped by Captain Hook, he must travel to Neverland, rediscover his roots, and rescue his kids in a matter of days.
Williams plays Peter Pan himself, starting the movie off going by Peter Banning. He perfectly portrays both the role of a workaholic lawyer and a child trapped in a man's body. You believe his transition as he slowly opens up his playful side, yet still manages to slip back into his fatherly role when he needs to. It's a very well-ranged performance that shows the depths of his acting talent and his passion.
Dustin Hoffman plays Captain Hook, and he's also brilliant in his role. He loves the fact that he's evil, but he's also depressed, longing for the old days of his war with Peter Pan and the Lost Boys. As clearly evil as he is, he actually plays the role of a father/like figure to Pan's son fairly well. It's convincing when Pan's son, Jack, starts preferring the old pirate over his own father. Other noteworthy cast members include Julia Roberts as Tinkerbell (she actually received a Razzie nomination for her performance, which I would say was undeserved), Dante Basco is awesome as Rufio (who takes charge of the Lost Boys in Pan's absence) Bob Hoskins is very entertaining as Smee, and Maggie Smith expertly portrays an old Wendy.
I wouldn't go so far as to call Hook a brilliant movie. The story direction is fairly predictable and there aren't a whole lot of surprises. There are portions of the movie that feel like they drag on a bit. Some of the choices they made with Tinkerbell's character felt … weird. But it's well worth checking out for Peter Pan fans. The set design just oozes a fantasy world, even if at times it feels a bit off. There's a general sense of nostalgia throughout the entire movie that may get you longing for your childhood. The music by John Williams is memorable as always. It acts as both a good kids movie as a follow-up to a classic children's tale, but it works for adults as well who do miss their childhood years.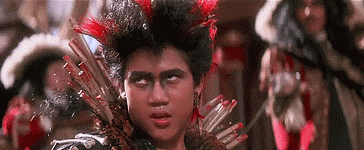 Hook ended up getting nominated for five different Academy Awards, including Production Design and Costume Design (lost both to Bugsy), Visual Effects and Makeup (lost to Terminator 2), and Best Original Song (lost to Beauty and the Beast). Hoffman was also nominated for Best Supporting Actor at the Saturn Awards in a Musical/Comedy, but actually lost to Robin Williams for his role in The Fisher King. But despite the award nominations and earning $300 million on a $70 million budget, Hook didn't do all that well with critics, earning a 26% on Rotten Tomatoes. Spielberg himself said that he felt like a fish out of water directing the movie. In various interviews, he spoke about the movie as if it felt awkward to him.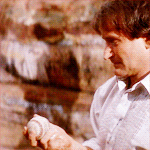 "There are parts of Hook I love. I'm really proud of my work right up through Peter being hauled off in the parachute out the window, heading for Neverland." "I didn't have confidence in the script. I had confidence in the first act and I had confidence in the epilogue. I didn't have confidence in the body of it."
Hook is far from Williams' best movie, even if he's very good in it. But I feel a strong sense of nostalgia while watching Hook regardless. When I remember Williams, this is one of the first movies that comes to mind. Disney's Aladdin is another one. And like with many of his other performances, he touched the lives of the actors he worked with.
Next month I'm probably going to begin my Disney Associated Animated movies blogathon. The first three on that list will be The Reluctant Dragon, Victory through Air Power, and the controversial Song of the South. Some other movies that will be in this blogathon further down include both Marry Poppins movies, The Nightmare Before Christmas (which I haven't seen since I was 9), Who Framed Roger Rabbit, and Enchanted.