I found very little details about this movie regarding its behind the scenes details. Unlike the first three Disney Animation Studios Associated movies that I've looked at, nobody seems to know all that much about this one. It's rarely re-released on home video, and the only way to buy it is through the Disney Movie Club.  Yet there are those who consider this a classic.
So Dear To My Heart, released in 1948, is based on a children's picture book called Midnight and Jeremiah. The original story, written by Sterling North and illustrated by Kurt Wiese, is about a young boy who adopts a black sheep that was abandoned by its mother. Like a number of other Disney Animation Studios related movies released in the mid-late 40's, it blends live action with animation, although this one uses animation sparingly and is mostly a live-action film.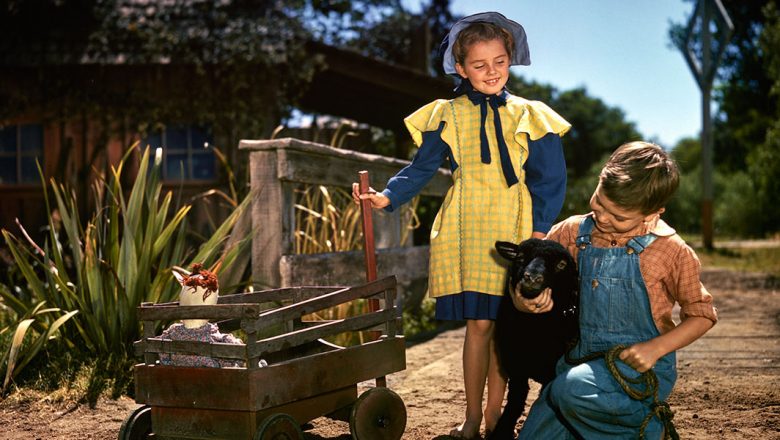 The simplest way to describe how this movie feels is old-fashioned. That in itself is neither a good nor a bad thing, but it should help you decide whether you'd be interested in this or not. Jeremiah lives on his grandmother's farm (no mention of his parents), along with his uncle Hiram. His grandmother clearly loves him, but can also be strict. She's also clearly portrayed as a traditional Christian, trusting the Lord's judgement over her own intuition and feelings. It takes place in a small Indiana town in the early 1900's where everybody knows everybody.
Despite how his grandmother is very skeptical about keeping the black sheep around, Jeremiah perseveres in taking care of his beloved sheep. This sheep often causes trouble, like figuring out how to escape the barn, wrecking the town's general store and running off when nobody is looking. The sheep causing trouble leads to several conflicts and helps mix up an otherwise wishy washy story where almost everyone gets along. There's also a plot about Jeremiah wanting to take the sheep to a county fair in hopes to win a prize, despite his grandmother's resistance to the idea. I won't spoil how that ends, even if it's quite easy to predict it.
I'm not sure what else to say about this movie itself. It's not made for me at all, but there are at least parts of this movie that are fairly well done. It got nominated for Best Original Song at the Academy Awards for its rendition of the 1700's English folk song "Lavender Blue", but lost to "Baby It's Cold Outside" from Neptune's Daughter. While looking that up, I learned that "Baby It's Cold Outside" was not originally a Christmas song.
I find it's more interesting to talk about the cast than the movie itself. For one, it's the final film appearance of Harry Carry, who passed away about a year before So Dear To My Heart released. Carry is often considered the earliest Western Movie star. Jeremiah is portrayed by Bobby Driscoll, whose personal story is actually quite tragic. He only lived to be 31. By the mid-50's his career declined quickly, and he became a drug addict.  He spent some time in jail as well. Eventually, with mounting health problems and no money left, he died in an abandoned building shortly after his birthday. Some of his other film credits include Song of the South and Treasure Island.
The actress for "Granny", Beulah Bondi, lived to 91. She continued working in films all the way into the mid 70's (when she was in her 80's). Her most well-known roles are "It's a Wonderful Life" and "The Waltons" TV show, which she won an Emmy for. And of course Burl Ives played Uncle Hiram. In addition to being an Oscar winner for his role in The Big Country, he's known for being successful in both acting and country music. He also portrays the snowman in the 1960's animated TV classic, "Rudolph The Red-Nosed Reindeer", which still airs annually around Christmas time.
So Dear To My Heart is a very old-fashioned movie about a boy who loves his black sheep, despite the trouble he causes. If that sounds appealing to you, than you would probably enjoy it. I didn't dislike this movie, and I do think that certain aspects of it were done well. But it's definitely not for me.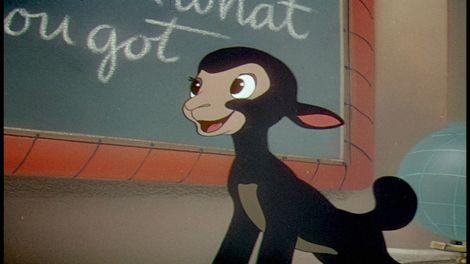 Next up is Marry Poppins, which I haven't seen since I was 9 or so. I'm very much looking forward to finally re-watching that. After that, it's Bedknobs and Broomsticks (never seen it), Pete's Dragon (also haven't seen it since I was a kid), and Who Framed Roger Rabbit (awesome movie). Pete's Dragon will actually be the half-way point in this blogathon.