Unlike the other blogathons I've done in the past, where I started with well-regarded classics, it took five movies to get to a classic with this Disney Animation Studios Associated movies blog series. Well, we've finally got a good one today.
Mary Poppins, released in 1964, is often regarded as Walt Disney's greatest live action achievement. It's also the only one of his movies that earned a Best Picture nomination at the Academy Awards during his lifetime. In fact, it received 13 nominations, a record for Walt's lifetime, and it won five. Mary Poppins won the Academy Awards for Best Actress for Julia Andrews, Best Film Editing, Best Original Music Score, Best Visual Effects, and Best Original Song for "Chim Chim Cher-ee".
Mary Poppins is actually based on a novel series, focusing mainly on the first book. According to the 40th anniversary DVD, Walt's daughters fell in love with the books and made him promise to release a film based on them. Walt tried multiple times to acquire film rights from the author, P.L. Travers, as early as 1938. She refused on multiple occasions, believing a film could not do her creation justice. Walt finally convinced Travers in 1961, although Travers demanded script approval rights. The Sherman Brothers, a songwriting duo that focused on musical films, were soon hired to write the music and to assist on the script. The brothers would move on to write songs for The Jungle Book, Bedknobs and Broomsticks, Charlotte's Web and The Aristocats. Their most well-known work remains "It's a Small World (After All)". According to Time Magazine, that song is the most performed song of all-time.
Anyway, Travers acted as an advisor on the production. However, she disapproved of the dilution of Mary Poppins' harsher character aspects, wasn't a fan of the music, and hated the use of animation in the movie. She hated the animation so much that it alone convinced her to never authorize further film adaptations of Mary Poppins. She preferred the idea of the movie using known standard songs from the Edwardian period instead of the original songs. Walt overruled her though, citing contract stipulations that he had the final say on the finished print.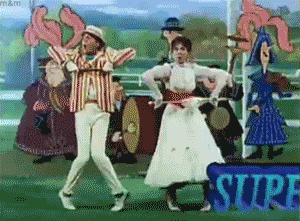 Julie Andrews was cast early, making her feature film debut after building a successful stage career. When Disney first approached Andrews, she was three months pregnant and wasn't sure if she could take it. The film crew assured her that they'd happily wait until after she gave birth. In addition to the title role, Andrews also provided bird whistling and additional voices during the "Supercalifragilisticexpialidocious" song. Her performance in this movie is nothing short of iconic.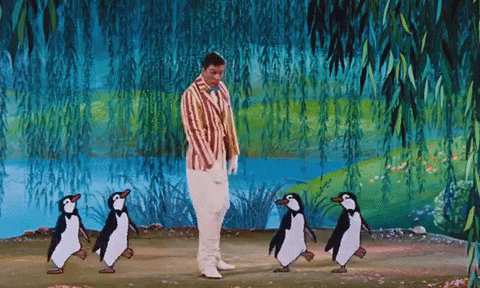 Dick Van Dyke was soon hired on as Bert, a jack of all trades who works a different job every day. He's generally very well regarded for his performance in this movie, even if his cockney accent is sometimes considered the worst fake accents in cinematic history. Van Dyke also plays Mr. Dawes Sr., the old director of the bank where Mr. Banks works. The role is first credited as Navckid Keyd, an anagram for Dick Van Dyke, before the letters are unscrambled.
Other major roles are David Tomlinson as George Banks (Mr. Banks), Glynis Johns as Winifred Banks (Mrs. Banks), Karen Dotrice as Jane Banks and Matthew Garber as Michael Banks. Last but not least, you've got Reginald Owen as Admiral Boom, an eccentric neighbor and naval officer who fires a cannon from his roof like clockwork. What a perfect name for such a nutter. While most of these actors have passed on in the years since, Karen Dotrice is not only still alive, but even cameos in last year's Mary Poppins Returns. Sadly, Matthew Garber only lived to 21, contacting hepatitis at a young age, which quickly gave him serious pancreatitis.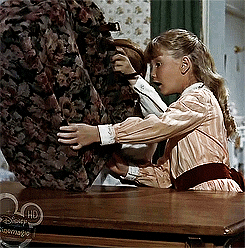 There really isn't much need to talk about this movie's reputation. It's well regarded as an all-time classic, and for good reason. It's got some good lessons for families sticking together, whether its kids learning to respect their elders better, or parents learning to pay better attention to their kids' needs. It's all masked within an adventure with a magical nanny.
Mary Poppins brings the perfect balance of kind and firm. She clearly cares about the children, but doesn't let them misbehave too much. She's intelligent enough to work around Mr. Banks' very uptight attitude, which in turn helps him loosen up by the movie's end. The ending is heartwarming, with Mr. Banks finally spending some fun time with his kids with the "Let's Go Fly a Kite" number. The music in general is well varied, catchy, and like many other elements in this movie, iconic.
There are aspects of this movie that generally wouldn't be in my taste. Although I enjoy musicals, this movie is very heavy on the music to the point where sometimes it feels like it's going on too long or leaves little room for anything else. But the dance choreography, the witty lines and the sheer creativity easily makes up for that. Sometimes the musical numbers get straight up hilarious. And to think there were also 13 deleted songs that never made it into the film. Most of these songs had elements incorporated into other songs, while West Wind was renamed and used in another film, Big Red. "The Right Side" was used in the TV series, Welcome to Pooh Corner as Winnie's personal theme song. "The Chimpanzoo" was originally supposed to follow "I Love to Laugh", but it was dropped before it was even recorded. The lyrics weren't released to the public until the 2004 DVD release, aided with storyboards.
I haven't seen this movie since I was around 10 or so. I didn't quite love it back then like some people do, and I don't quite love it now, but I had fond memories of Mary Poppins and I'm glad I finally saw it again. This was fun to finally rewatch. I can see why so many people adore this movie even if I don't quite love it. In addition to its many awards and nominations, it earned $31 million in its initial run on a $4 million budget. From its re-releases, it's earned an additional $102 million from North America alone. It was also the 20th most popular sound film of the 20th century in the UK, with about 14 million tickets sold. It's reported to be the most profitable movie released in the year 1965, and the profits were enough for Walt Disney to buy land in Central Florida and finance the construction of Walt Disney World.
That in itself is impressive.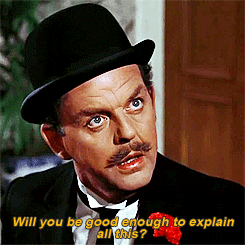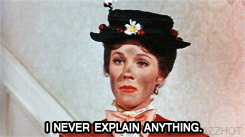 Next up is Bedknobs and Broomsticks. I've never seen it, but I've heard it's similar to Mary Poppins in style, but a bit more mature and dramatic. That intrigues me. After that it's Pete's Dragon, another movie I haven't watched since my childhood. Pete's Dragon also happens to be the half-way point in this blogathon. Then it's Who Framed Roger Rabbit (awesome movie), and then The Nightmare Before Christmas (haven't seen that one since I was a kid either. In fact my parents only ever allowed me to watch it once).