Even in a blog series where every movie is unique in one way or another, this movie is particularly unique. But to get into what makes it unique, we first need to take a brief look at DisneyToon Studios.
DisneyToon Studios, which started as Disney MovieToons, was a division of Disney Animation Studios. It was originally founded in 1990, and was eventually closed in June of last year. In that time period, they produced 47 films, which is crazy when you think about it. 47 animated films produced by a single studio within 28 years. Although most of their films were direct-to-video, including a number of notorious sequels to Disney classics, both their first and last films were theatrical releases. Their first movie, DuckTales the Movie: Treasure of the Lost Lamp, took place between the third and fourth season of the very popular DuckTales TV series. Their last, Tinker Bell and the Legend of the NeverBeast, saw a limited release in 2015.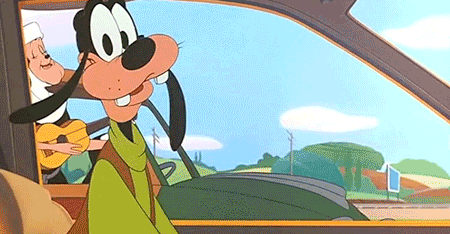 Some of the studio's more well-known movies include The Return of Jafar and Aladdin and the King of Thieves (which served to bookend the Aladdin TV series), a group of dreadful Beauty and the Beast direct-to-video sequels, The Lion King II (actually pretty good), Mulan II (absolutely dreadful), and the surprisingly entertaining Cinderella III: A Twist In Time. Some of their theatrical releases include The Tigger Movie, Return to Never Land, The Jungle Book 2, Bambi II (upgraded to a theatrical release after it sold surprisingly well), and the Cars spinoff films, Planes and Planes: Fire & Rescue. I've got no plans on looking at any of these, because a series on straight to video sequels sounds more like torture than anything else, even if some of them are alright.
Around the time that Disney and Pixar merged, John Lasseter became head of Disney's entire animation department. He called for the immediate cancellation of all future films in production, which saw sequels for Chicken Little, Meet the Robinsons, Pinocchio and The Aristocats cancelled, among other projects. After that, the studio exclusively focused on spinoffs. The studio closed in 2018, resulting in the layoff of 75 animators and staff. This also saw the third Planes film cancelled.
Anyway, today's entry in this blogathon is for A Goofy Movie, DisneyToon's second theatrical release and third movie overall. It released in 1995, in-between The Return of Jafar and Aladdin and the King of Thieves. It's based on the Goof Troop TV show that aired 65 episodes, starring Goofy and his son, Max. In the show, Goofy is a single father and Max is a fairly young kid. This movie ages Max to being in the middle of his high school years. It's also the directorial debut for Kevin Lima, who later directed Tarzan, the live action 102 Dalmatians, and Enchanted (which we'll be looking at soon).
This movie is based on a real life road trip that then Disney Chairman Jeffrey Katzenberg took with his then estranged daughter. That road trip helped them bond and their relationship considerably improved. That's basically what this movie is. Max is growing up faster than Goofy realizes, and his goofy nature makes Max feel embarrassed at school. Meanwhile, Goofy is afraid that Max will start getting into trouble, and decides to take his son on a road trip as an intervention.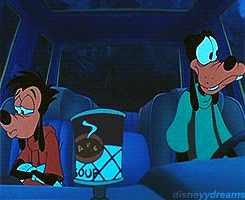 The road trip starts off as a complete disaster, but it's this series of rough moments that make them both realize their own faults in their deteriorating relationship. Goofy still sees his son as a little kid, and doesn't recognize that Max doesn't have the same interests that he does. Max realizes that he doesn't talk with his father enough – he spends too much time ignoring him and trying to act cool. By the end of the movie, they find that they've got at least some common interests. More importantly, they care deeply about each other.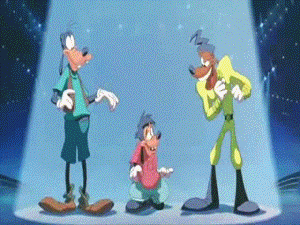 That aspect of this movie works fairly well. Sure, it sometimes feels rushed with the movie's short run-time, and it's exaggerating the comedy side of things, but that's the whole point of Goofy as a character. Bill Farmer's performance as Goofy is brilliant (he's been voicing Goofy consistently since 1987). Apparently they first wanted him to record his voice naturally, but a couple weeks into recording, they changed their mind and wanted Goofy's classic voice. Even with Goofy's, uh … goofy way of speaking, Farmer manages to give him some very emotional moments. Jason Marson is also great as a teenaged Max, striking a great balance between a teenager trying to act cool while still having a couple of Goofy's mannerisms. Most other roles are fairly minor, but they're all performed well.
As much as I've given this movie a lot of praise so far, and this a pretty decent movie, it's not what I would call great. It often struggles to find a good balance between drama and comedy. The animation, while competent, doesn't hold a candle to what the main Disney studio was pumping out at the time. It's possible that the animation is sub-par because five different Disney animation studios worked on this film, including Disney MovieToons, Disney Animation Studios, Walt Disney Television Animation, Walt Disney Animation France, and Walt Disney Animation Australia.  Even Phoenix Animation Studios in Canada helped with some clean-up animation. All these different studios contributing to one film makes the whole production look scatterbrained. The slapstick comedy is mostly aimed towards younger kids, while the lessons apply better for older kids.
The critic responses were fairly mixed as well. New York Times called the film's story "too rambling and emotionally diffuse for the title character to come fully alive." Variety called the movie's six featured songs unmemorable, and that Goofy's character was a bit over the top for a main character. The San Francisco Chronicle gave the movie a 1.5/4, calling it an "incoherent mess that jumps from one unlikely, brainless, crash-bang situation to another." Roger Ebert on the other hand gave the movie three stars out of four. That was even after a second viewing, because the first time he watched it, a projection booth mistake caused the display to go upside down for a while.
I can't find much information on the movie's budget, but it was considered a relative success, earning $35 million in its theatrical release. It even opened at number 2 at the box office, only behind Bad Boys (released the same week). It's also enjoyed a bit of a cult following, with decent DVD sales over the years. A 20th anniversary reunion for the film was held at the D23 expo, attended by around 1,000 fans.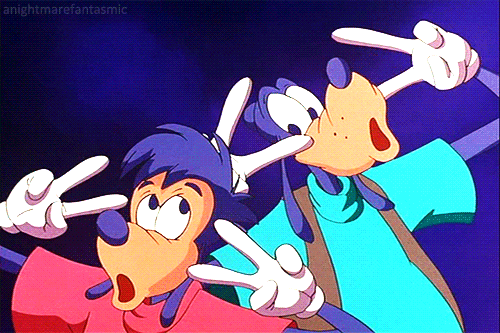 I would only recommend A Goofy Movie if you've seen it and enjoyed it before. By no means is this a bad movie, but it's nothing special either. There are much better movies about father/son relationships, like Finding Nemo, The Lion King, The Pursuit of Happyness, Boyhood, Hook, and yes, Indiana Jones and the Last Crusade (also about a father and son repairing an estranged relationship while on a journey). That said, there's no real harm in watching this one. It's just a mostly well done father/son bonding movie with some out of place comedy and too short of a runtime to really dig into these characters.
Next up is James and the Giant Peach, the last remaining movie in this blog series that I've seen before. Then it's Enchanted, Saving Mr. Banks, and we'll finish off with Mary Poppins Returns. I'm definitely on track to finishing this blog series by the end of November. I might look at a couple of Disney's live-action remakes that have come out since my 2017 blog series for the rest of November. December will likely be a Christmas theme month, where I watch some Christmas movie classics that I've never seen before.