Although Tim Burton has worked with Disney quite a bit over the years, he's only been involved with two movies tied directly with Disney Animation Studios. Like with The Nightmare Before Christmas, the famed studio mostly focused on touch-up animation, but that is enough to include this in this Disney Animation Studios Associated Movies blogathon. There's a reason I didn't go with that full title for the name of this blog series.
Anyway, James and the Giant Peach is the second Skellington Productions movie to be associated with Disney's famed animation studio, and their third and final theatrical release overall. Although The Nightmare Before Christmas did moderately well in theaters, and has done quite well on home video since, both of the short-lived production company's other releases bombed. Cabin Boy earned $3.7 million on a $10 million budget, and while James and the Giant Peach did well with critics, it only earned $28 million on a $38 million budget. That is despite the very positive critical reception for today's subject.
James and the Giant Peach is based on the 1961 novel of the same name, by British novelist Roald Dahl. Dahl was known for his unexpected endings, and their macabre, dark comedic mood. Some of his other works with film adaptations include Charlie and the Chocolate Factory, Matilda, Fantastic Mr. Fox and The BFG. James and the Giant Peach in particular has been a regular target for censors, often getting banned from some schools.
Dahl repeatedly refused film rights to this particular book over the course of his life, even though he green lit other adaptations of his work. Shortly after his death however, his widow agreed with Disney on adapting the book to film. She also praised the movie after its release, saying that Roland "Would have been delighted with what they did with James. It is a wonderful film."
Like a lot of the earlier movies in this blog series, this movie combines live action with animation. However the animation in this movie is almost entirely stop-motion. In fact the original plan was to have the character James in live-action for the entire movie, but they decided that would be way too expensive to combine him with the stop motion characters and environments. Instead, they started and ended the movie with James in live-action, but for the majority of his journey, he'd be a stop-motion character. Just like Nightmare before it, this movie was directed by Henry Selick and produced by Tim Burton. There really aren't a whole lot of behind the scenes details on this one beyond that.
If you've read the novel (I did in school), then this movie is fairly close to that. It's also got some good musical numbers, even if they're mainly aimed at kids. There are times when the movie is amusing, mostly because of character interactions. In addition to James, you've got a group of anthropomorphic animals, like the classy Mr. Grasshopper, the stereotypical rough Brooklyn gangster Mr. Centipede, the creepy yet kind Miss Spider, the blind and easily frightened Mr. Earthworm, Mrs. Ladybug, and Glowworm.
The movie is a series of adventures while they ride the giant peach across the ocean, and they slowly learn to work together as a team. It's amusing how the spider often freaks out the others. Everyone also proves their usefulness by the end of their journey, even if it's more obvious for the spider and the ladybug from the start. By the end of the movie, they all feel like a family, which is exactly what James is missing out on when the movie begins.
I'm not sure what else to say about this one. I both read the book and watched the movie years ago as a kid. I enjoyed them back then, but never quite bothered to see the movie again. Now that I've seen it, I'd agree that it's a good movie, but I'm not sure if I'd go so far as to say it's worth tracking down if you're not already familiar with the story. It's not nearly as visually interesting as The Nightmare Before Christmas, or the Wallace and Gromit movie series for that matter. There are talks of Disney attempting a live-action version of the film, but nothing's been confirmed yet. The film was also turned into an on-stage musical that premiered in 2010, and it's still being performed in several versions. There's the full version, and a shorter version meant for younger audiences.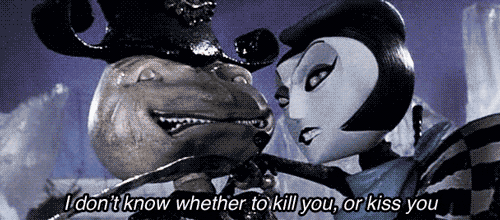 Next up is Enchanted, which has direct production ties to Tangled. I've been meaning to see that for a while, but never got around to it until now. After that, there are only two movies left in this series, Saving Mr. Banks and Mary Poppins Returns. Both of which are directly tied to Mary Poppins.