Last year, I looked at all of the Star Ware movies, going through most of them in the spring, and looking at Solo much later. Indiana Jones shares a bit of history with the Star Wars franchise. Also as a kid, I first saw the Indiana Jones trilogy about a year after I first saw Star Wars. As such, there's more than one reason why it feels appropriate for me to look at these movies about a year after I looked at Star Wars.
The Indiana Jones franchise joins together real life friends George Lucas and Steven Spielberg for the project they've always worked closest with each other on. The origins for Indiana Jones begins in 1973, when Lucas wrote The Adventures of Indiana Smith. Like Star Wars, he saw it as an opportunity to create a modern version of the film serials of the 1930's and 40's that he enjoyed as a kid. He spoke with fellow writer/director Philip Kaufman about his idea, and Kaufman suggested using the Ark of the Covenant as the plot device. Kaufman first heard about the Ark while visiting the dentist as a child. The two of them wrote the script together, although the project was stalled when Kaufman was hired to direct "The Outlaw Josey Wales". In the meantime, Lucas decided to focus more on this strange movie that eventually became Star Wars.
Spielberg had expressed interest in directing a James Bond movie on several occasions, although he still hasn't had the opportunity. Lucas managed to convince him that he came up with a character "better than James Bond", and explained the concept for Raiders of the Lost Ark. Spielberg loved it, calling it "a James Bond film without the hardware", although he also suggested that "Smith" wasn't a great last name for the hero. Lucas replied "OK, what about Jones?" Spielberg was reluctant to take on the director's chair for a full trilogy, not wanting to involve himself in too many scripts, until Lucas said that the other two movies had already been written.
Of course it was later revealed that the other two scripts hadn't been written yet.
It's also a well-known piece of trivia that the name "Indiana" was actually named after Lucas's dog, which was referenced as a joke in Indiana Jones and the Last Crusade.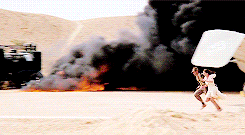 Lawrence Kasdan soon joined the team as the script writer, after having written The Empire Strikes Back. Spielberg, Kasdan and Lucas spent nine hours a day for a full week coming up with ideas for the film. They came up with the idol at the start of the film, inspired by Uncle Scrooge comics Lucas read as a kid. Spielberg came up with the boulder chase, also inspired by Uncle Scrooge comics. Kasdan used a 100-page transcript of their conversations to help finalize the script. The costumes were at least partially based on Secret of the Incas (1954), starring Charlton Heston. Some of the ideas they came up with even made it into The Temple of Toom, including the rolling gong as a shield, a mine chase, and jumping from an airplane in a raft.
A number of studios turned down the project, worried about the estimated $20 million budget. Eventually, Paramount agreed to the franchise, with Lucas negotiating a five-picture deal. They also worked hard to film the movie quickly and keep the budget down, in a sort of "quick and dirty" feel of the old serials. Instead of the usual 30-40 takes done in major pictures, they stuck with 3 or 4 with most scenes. They also hired four storyboard artists, which made it Spielberg's most storyboarded film to date at the time. On this rushed production, Spielberg noted "Had I had more time and money, it would have turned out a pretentious movie."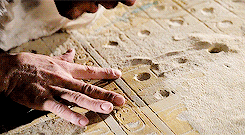 Another major player in the Star Wars franchise joined the Indiana Jones crew early on, soundtrack composer John Williams. The score featured the well-known Indiana Jones theme, titled "Raider's March". The piece is an instantly recognizable anthem song that's used in every other Indiana Jones movie. Williams originally wrote two candidates for a Jones theme, but Spielberg enjoyed them so much that he insisted they get blended together. The score received an Oscar nomination for Best Original Score, but lost to Chariots of Fire. I'm glad I wasn't the person deciding between those two iconic soundtracks.
At first, Spielberg wanted to cast Harrison Ford as Indiana Jones, but Lucas objected, stating that he didn't want Ford to become his "Bobby De Niro", or "that guy I put in all my movies (referencing how Martin Scorsese often worked with Robert De Niro." The two of them searched for younger talent, and they auditioned Tim Matheson, Peter Coyote, John Shea and Tom Selleck. Selleck was actually offered the role, but became unavailable after he committed to Magnum PI. With the film only three weeks away from its scheduled filming, Spielberg persuaded Lucas to cast Ford.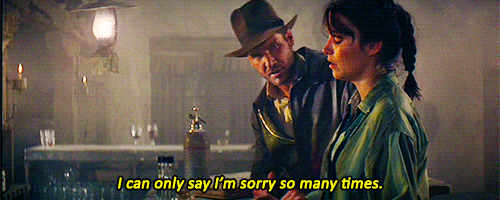 Karen Allen was cast as Marion, Jones' love interest in the movie, after auditioning with Matheson and Shea. Spielberg enjoyed her role in National Lampoon's Animal House, and offered her the role shortly after Debra Winger turned it down. Other cast members include John Rhys-Davies as Sallah, an Egyptian friend of Indiana's, Paul Freeman as Belloq, an archeological rival of Jones's and one of the main antagonists, and Roland Lacey, who expertly plays a slimy and sadistic Gestapo agent. German actor Klaus Kinski was offered the role of the Gestapo agent, but turned it down because he hated the script.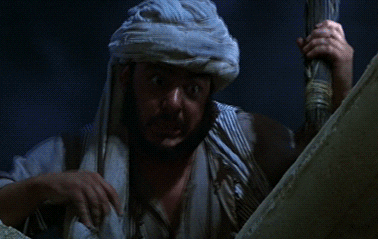 The character of Indiana is famously known for his fear of snakes, so of course they tossed hundreds of snakes into the chamber where they find the Arc of the Covenant. In movie, they're Egyptian Asps, a very dangerous breed of snakes. In reality, the only poisonous snakes on set were the cobras, and thankfully the only crew member that was bit, was bit by a python. Actually, most of the snakes were made up with giant but harmless legless lizards known as sheltopusiks. Neither Ford nor Spielberg were afraid of snakes in real life, although the set included so many of them that Spielberg felt sick a couple of times just looking at them.
Indiana Jones released in 1981, about a year after The Empire Strikes Back.  It ended up being the highest earning movie of the year, with $389 million on what ended up being an $18 million budget. The film also earned critical acclaim, with a 95% rating on Rotten Tomatoes and an average score of 9.18/10. The New York Times called it "one of the most deliriously funny, ingenious and stylish American adventure movies ever made." Roger Ebert noted "Two things, however, make Raiders of the Lost Ark more than just a technological triumph: its sense of humor and the droll style of its characters." He later added it to his list of "Great Movies".
Raiders of the Lost Ark also earned eight Academy Award nominations, including Best Picture, Best Direction, Best Cinematography, and as mentioned earlier, Best Original Score. It ended up winning Best Sound, Best Film Editing, Best Visual Effects and Best Art Direction-Set Decoration. It also received a Special Achievement Award for Sound Effects Editing.
The movie has also inspired several video game franchises, most notably Tomb Raider and Uncharted. Tomb Raider has since had three movie adaptations, and an Uncharted movie adaptation is in the works.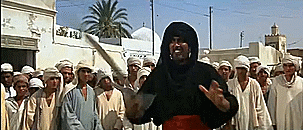 (The hilarious story behind this scene is that this was supposed to be a big fight, but Harrison Ford wasn't feeling too good that day. He suggested that Indiana has a gun, so why doesn't he just use it? Not only was that scene hilarious, but it actually got the filming crew two days ahead of schedule.)
As for the movie itself, what is there to say? Indiana Jones and the Raiders of the Lost Ark is a pure adventure film. It's very entertaining, its mythology is fascinating, the acting is great across the board and it's jammed with iconic action scenes and set pieces. Raiders of the Lost Ark has been discussed so deeply that there's really not much to add. If you enjoy classic style adventure movies yet you haven't seen it, hurry up and do so. You're welcome.
Next up is the mildly polarizing prequel, The Temple of Doom. That movie, along with Gremlins, is also responsible for the creation of the PG-13 rating. After that it's The Last Crusade, and then we'll finish off with the much more polarizing Kingdom of the Crystal Skull. There is a fifth movie in the works, although it's not yet clear if and when it will release.