When talking about classic Christmas tales, most people at some point bring up Charles Dickens' A Christmas Carol. This classic novella first released in 1843, and it's quite possibly the most adapted story in the last 200 years. The different genres within the stage production adaptations alone are impressive – everything from children's plays to a steampunk version called 3 Ghosts, and even Patrick Stewart simply reading the original novella on-stage. There are numerous film versions, from the 1901 Scrooge that is the earliest surviving screen adaptation, to Scrooged (a comedic version starring Bill Murray). Before now, the only film adaptation I've personally seen before is The Muppet Christmas Carol. I've seen a couple animated TV specials though.
A Christmas Carol's influence goes beyond its adaptations. The story actually popularized the phrase "Merry Christmas", introduced to us to the phrase "Bah! Humbug!", and helped advocate for a humanitarian focus over the holiday season. Some historians believe it had an influence on how Christmas is celebrated today. It was noted in an 1844 edition of The Gentleman's Magazine that charitable donations rose within Britain after the novella released. Robert Louis Stevenson (author for Treasure Island, and Strange Case of Dr. Jekyll and Mr. Hyde) vowed to give generously after reading the book. In 1867, one American businessman was so moved by the story, he closed his factory on Christmas Day and sent all of his employees a turkey.
According to all of my research, as well as advice from people I trust both with people I personally know and bloggers I regularly interact with, the 1951 adaptation starring Alastair Sim is the best version. That makes this a good place to start for this month's blog theme. I'll be looking at a handful of Christmas classics I've never seen before.
While this is usually regarded as a brilliant adaptation, it wasn't received all that well when it first released. Contemporary reviews were somewhere between mixed and positive. A number of critics complained about how gloomy the film was compared to other renditions. However, the New York Times review noted that it delved deep into its characters and glimpsed into the economic troubles of England at the time. The Washington Post review stated "This may not be "A Christmas Carol" of recent tradition, but I've an idea it's the way Dickens would have wanted it. It's the way he wrote it." The movie did well in Britain, but performed poorly in the United States. It has however since been seen as a classic, and is broadcasted regularly on TV at some point in December.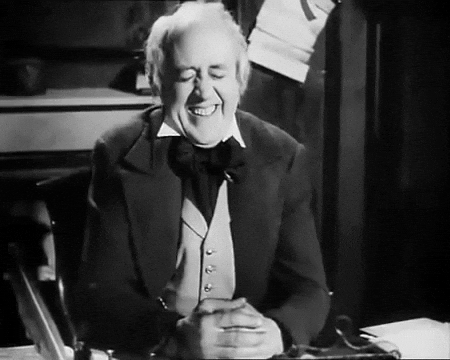 I thought this movie was brilliantly done. Sim does a fantastic job at portraying a bitter, grumpy Ebenezer Scrooge. He quickly shifts from subtly ignoring the festivities around him to getting confrontational in a convincing way. You buy how he slowly comes to terms with his traumatic past, and how he became a lonely, greedy businessman in the first place. When he starts warming up to the Christmas spirit and the needs of everyone around him, he's quite entertaining in both his giddy joy and pretending to be angry at his employees, before promising them raises.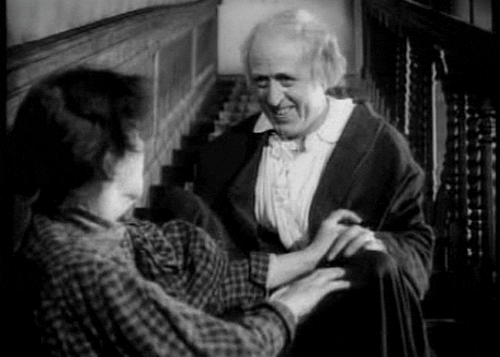 Other noteworthy performances include Kathleen Harrison as Mrs. Dilber, Scrooge's housekeeper. It's great when she seems frightened at Scrooge's excitement on Christmas morning, questioning his sanity. That is until he gives her a rather generous Christmas present. Mervyn Johns plays it fairly straight as Bob Cratchit – he seems like a genuinely nice guy who's just trying to do what's best for his family.
It's not worth talking about the story because this classic is so well known. What I will say is that I don't remember the original book (haven't read it since grade 5 or so), but this adaptation explores Scrooge's past much more than the Muppet version. You hear about all of tragedies Scrooge encountered from a very young age, and without any kind of support network, you fully understand why he's shut himself off from the world.
Seeing how this is the only fully live action adaptation I've seen, I can't say this is the definitive version of A Christmas Carol. But I can see why this version of the movie is loved by many. It strikes a great balance between comedy and drama. The acting is brilliant across the board. As much as this movie does get depressing at times, it ends on a happy note that feels natural. For those of you who are somehow not familiar with this story, this is a great place to start.
I haven't decided what I'll be watching next. It might be White Christmas. I've never seen White Christmas, but it's the movie my dad always watches to get in the mood for the holiday season. I might also watch It's a Wonderful Life.