It's a Wonderful Life is often considered among the most beloved American movies in history. It's based on a short story called The Greatest Gift, written by Philip Van Doren Stern. The movie first released in 1946, 3 years after the short story finally released after years of trying. The short story was initially rejected by several publishers, so he printed it as a 24-page pamphlet and mailed it to a number of family and friends. The story came to the attention of RKO Pictures (the same film company that distributed a number of classic Disney and MGM movies).
Although it didn't quite make a profit on its initial release, It's A Wonderful Life has since become a regular showing every Christmas season, both in classic cinema screenings and on TV. The American Film Institute considers it among the top 20 films ever made, and the most inspirational American film of all time (with To Kill A Mockingbird and Schindler's List number 2 and 3 respectfully). It earned five Academy Award nominations, including Best Picture (losing four of them to The Best Years of Our Lives and one to The Jolson Story), and also earned a special Technical Achievement Award.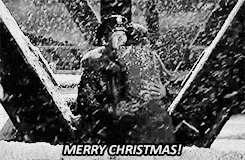 The movie was directed by Frank Capra, who used a unique film method back then, which has become more common since. Instead of working with a tight script, he'd film most of his scenes with a general idea of what needed to happen. He encouraged improvisation. He also enjoyed showing off his fancy technical gimmicks, which divided critics at the time. These two combined meant he also needed to rely on heavy editing to help keep a "sequence of rhythmic motion."
The story for this movie is fairly straight forward. It follows George Bailey, an intelligent man who impacts a number of people's lives, even if he doesn't realize it. In the process, he faces a number of hardships. He starts young, when he saves his younger brother from drowning, and loses hearing in one ear in the process. He also prevents his after school boss from accidentally adding poison to a prescription. His plans for going on a world tour before studying in college are prevented when his father has a stroke, forcing him to take over the family business. There are a number of other sacrifices he makes over the years, but that sums up his origin story.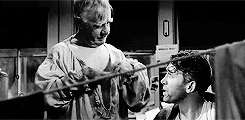 At one point, he's pushed to the brink of suicide when he needs to come up with $8,000 fast. That would be worth about $110,000 in today's money. Before he jumps off the bridge, a guardian angel appears in the water, begging for help. His intent to commit suicide instead turns into a rescue effort, yet it's truly the guardian angel who rescued him. The angel then offers George a glimpse of what the world would be like without him. It helps George realize how important his actions have been on his hometown, and later events help him realize how much he's appreciated.
Before watching this movie on Friday, I had only ever seen the final scene, where George's youngest daughter says that classic line, "Every time a bell rings, an angel gets his wings." I can definitely see why this movie is considered inspiring, and why it's considered a Christmas classic. James Stewart puts in a well varied performance, showing a sense of energy when he's helping people out, and you believe he's in despair when he hits rock bottom. Lionel Barrymore is entertaining as Mr. Potter, George's biggest business rival and essentially the movie's villain. Henry Travers's portrayal of the guardian angel, Clarence, strikes a good balance between a kind heart and someone who, while good at his job, isn't what you would call a genius. And of course Donna Reed plays Mary Hatch quite well – the woman that George eventually married.
In a lot of ways this movie is old fashioned, and it won't be for everyone. That said, the inspirational aspect of this movie is timeless. I personally enjoyed it, and I'm glad I finally saw it, but I'm not sure if I'll watch it again. Being a movie that Paramount Pictures failed to renew its copyright for, it is now in the public domain. It's easy to watch on TV around this time of year. There are also multiple DVD and Blu-Ray versions available, some of them are colourized (including a recent computer-colourized version from 2007). Personally though, if I'm going to watch a classic movie like this, I'm going to watch the original black and white version. There is even a 4k Blu-Ray version of the movie that released this past October, and I've read that it's a very good transfer.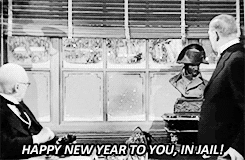 I'm planning on watching one more classic Christmas movie this month, and it'll likely be White Christmas. I have no idea what it's about, but it's the movie my dad usually watches to get in the Christmas mood. I haven't yet decided what theme I'll be doing next month, but since I'll be writing a book with the working title "Dragonblood", I might just watch four dragon movies. If I do that, I'll probably jump a bit ahead on my long delayed DreamWorks blogathon and watch the first two How To Train A Dragon movies, along with a couple more. The sad thing is, as far as I can tell, there aren't a whole lot of good dragon movies out there. Then I might spend a month looking at the Hobbit movies and the Lord of the Rings movies. After all, it's now been five years since The Battle of the Five Armies released, so I think that's enough time to give it a second chance.