Like with my first How To Train Your Dragon post, this doubles as an entry in my Dragon Movies theme month and jumping forward in my long delayed DreamWorks blog series. How To Train Your Dragon 2 released in July of 2014, about 4 years after the original movie, and nine animated DreamWorks movies released between the two.
Loosely based on the children's book series of the same name by Cressida Cowell, How To Train Your Dragon 2 takes what the first movie accomplished and builds on it in multiple ways. The scale is much bigger. The visuals are more developed. The cast is expanded. Best of all, most people tend to agree that How To Train Your Dragon 2 is the better story, and better overall movie. Normally I save my opinion for later in these blog posts, but I'll just say it straight up right now. This movie is awesome.
Pretty much all the major players involved in the first movie return to the sequel. Jay Baruchel voices Hiccup, the son of Viking chief Stoick the Vast, and the series main character. His character is definitely more confident than he was in the previous movie, having earned the respect of his clan after being seen as an outcast for most of the first film. He's still got his insecurities, especially nervous about the idea of taking over as chief, but it leads to a very balanced vocal performance.
America Ferrara plays Astrid, a fellow young Viking and Hiccup's fiancé. Her role in this movie is expanded and more emotionally varied. Gerald Butler is entertaining as always as Stoick, yet when he talks about his past with this movie's villain, he shows a much more serious, focused side. The movie also introduces Cate Blanchett as Valka, Hiccup's mother, who's been living in isolation with a large group of dragons for years. She's easily the best addition to the cast, both from a writing and a performance standpoint. Kit Harrington plays Eret, a dragon trapper who starts off as a minor villain, but eventually joins the Vikings against Drago. Drago is a brutal dragon hunter who is building a dragon army with the intention of ruling the world, given a very intimidating vocal performance by Djimon Hounsou.
A sequel to How To Train Your Dragon was announced shortly after the first movie became successful. Director Dean DeBlois began working on the script before the first movie released. Chris Sanders, who co-directed the first film, only acted as an executive producer due to focusing on The Croods (which released about a year before this movie). When DeBlois was first offered the sequel, he accepted, as long as they allowed him to turn the Dragon franchise into a trilogy. From the start, he wanted to revisit films from his youth, with The Empire Strikes Back and My Neighbor Totoro being his main inspirations.
"What I loved especially about Empire is that it expanded Star Wars in every direction: emotionally, its scope, characters, fun. It felt like an embellishment and that's the goal."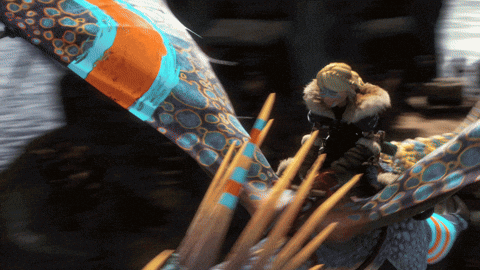 The first movie takes place in a generic North Sea environment, but the creative team decided to focus on Norway specifically for this movie. About a dozen of the development team travelled to Norway for a week, touring Olso, Bergen and the fjords. Of the trip, DeBlois commented that he learned from directing Lilo & Stitch, "If you set an animated film in a place you want to visit, there's a chance you might get to go there." He went with his film crew to Hawaii before they started the main development for that Disney movie.
How To Train Your Dragon 2 made several major animation developments for DreamWorks, and is when they started pushing development forward, instead of most of the advancements coming from Disney. It's the first DreamWorks movie to use "scalable multicore processing", which allowed artists to work on rich, complex images in real time, instead of waiting eight hours to see their results. It made the animation process much easier. It also used brand new lighting software, which gave them subtle lighting to improve facial animations and "the sensation of skin moving over muscle instead of masses moving together."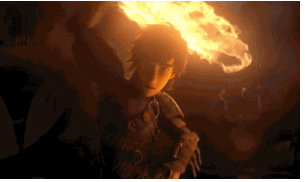 The movie starts off about 5 years after the first movie in-universe. Hiccup's Viking clan and the dragons now live in harmony, having developed several dragon riding sports, rebuilt their forges to build automatic feeding devices for the dragons, and even rigged a complex fire extinguishing network in the event of accidental fires. Hiccup in particular invents several neat gadgets of his own, which help him stand out in a fight. But while his father wants him to be chief, he'd rather focus on improving his dragon flying abilities and exploring the world, working on his map. In one such expedition, he comes across dragon trappers, who are working for a warlord that even the usually fearless Stoick is terrified of.
He also meets his long-lost mother, who was believed to be dead. I won't spoil her reasons, but she's got valid reasons for living in isolation for the last 20 years. She is living amongst a large group of dragons, and she and her son quickly connect, being very similar in spirit and attitude. They both teach each other things about dragon riding and training. The reunion between Stoick and Valka is also heartwarming, showing that despite their differences, they still love each other deeply.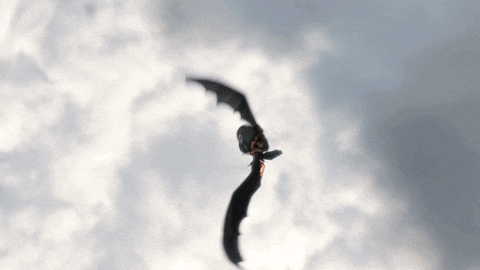 Drago proves himself to be a legitimate threat in a number of ways. Not only is he a physical presence rivalling that of Stoick, but he's got his own ways with dragons. One that makes them consider him an alpha, instead of being their friend the way that Hiccup and his mother are. This leads to two very large-scale action scenes, involving hundreds of dragons flying around, in addition to the sword fights between humans on the ground. The sense of scale in this movie is very impressive, and the action is always entertaining, yet it never loses the movie's dramatic value.
How To Train Your Dragon 2 is a very strong movie altogether, and the critics agree with that. This movie earned a 92% on Rotten Tomatoes, with an average score of 7.7 out of 10. The Variety review praised the film's ambition. "The pressures of making a great four-quadrant monstrosity must be enormous, and yet, like his unflappable hero Hiccup, How To Train Your Dragon 2 writer-director Dean DeBlois has prevailed, serving up DreamWorks Animation's strongest sequel yet." The Chicago Sun-Times gave the movie a perfect score, saying "Not only does this second movie match the charm, wit, animation skill and intelligent storytelling of the original, I think it even exceeds it." The Globe and Mail's 4 out of 4 review commented that it's a rare animated movie that encourages kids to think for themselves, instead of telling them what to think.
How To Train Your Dragon 2 ended up earning $621 million on a $145 million budget, easily outperforming the original, and becoming the second highest earning animated movie that year, behind Big Hero 6. It was also the 12th highest earning movie of the year overall. It also broke the opening weened record in China at the time, with $25.9 million, surpassing Kung Fu Panda 2. Considering how popular the Kung Fu Panda movies are in China, that's no easy feat.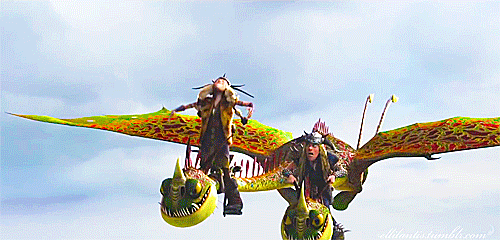 In a subgenre of fantasy films with very few good movies, How To Train Your Dragon 1 and 2 both stand out. They're not just awesome dragon movies, but they're great animated family films as well. They're bright and colourful and fairly entertaining, making them easy recommendations for kids. Yet they're also intelligent movies, which make them worth recommending to adult fans of fantasy as well. I do plan on watching the third How To Train Your Dragon movie at some point, and I've heard it's good even if not as good as 1 or 2, but it may be a while. Next month, I'll be rewatching the Hobbit and Lord of the Rings movies. Of the two trilogies, I'm definitely looking forward to Lord of the Rings more, but I'll go through The Hobbit first.