In my previous Hobbit movie post, I teased that the production behind the Hobbit movie trilogy was a mess. It's time to discuss exactly how much of a mess that was.
Because of the massive success that was the Lord of the Rings trilogy, pretty much everyone wanted something based on The Hobbit. After all, the Lord of the Rings trilogy collected a total of 17 Academy Awards (out of 30 nominations), over $3 billion at a time when only one previous movie in history had ever passed the $1 billion mark (Titanic), and it kick started a surge of big budget fantasy films. It's often considered by both critics and audiences as up there with the greatest movie trilogies of all-time, and for good reason. Director Peter Jackson, as well as his screenwriting team of Fran Walsh and Philippa Boyens, showed great interest in continuing the story.
However, before pre-production could even begin, there were already signs of trouble. MGM held the film rights to The Hobbit, while New Line Cinema produced and distributed the LOTR trilogy. It's a long story that involves United Artists buying rights from JRR Tolkien himself back in 1969, and United Artists later sold to MGM. In any case, New Line and MGM agreed to co-finance the film.
This wouldn't have been an issue if it weren't for Jackson in the middle of a lawsuit against New Line, claiming he'd lost revenue from merchandising and video games associated with The Fellowship Of The Ring. His suit demanded an audit to see if they were withholding money from him. The studio's co-founder, Robert Shaye, accused Jackson of being greedy and insisted they'd never work together again. On the flip side, MGM refused to make the movie without Jackson's involvement. This disagreement halted production entirely. Fortunately, a resolution didn't take too long, as they agreed to name Jackson as a producer in late 2007. That's probably not all that surprising considering how much money was at stake.
Three months later, another lawsuit showed up, this time the Tolkien Estate taking on New Line Cinema for a breach of contract related to the Lord of the Rings trilogy. That lawsuit was settled outside of court in 2009, and the estate agreed to let The Hobbit release. Yet despite all that, the biggest pre-production drama was still coming.
At the time, Guilleromo Del Toro was to direct The Hobbit (Pan's Laberynth, Hellboy, The Shape of Water).
MGM was on the brink of bankruptcy. Even though the production crew was busy preparing scripts, sets and costume designs, they couldn't greenlight the movie until MGM sorted out their financial issues. This frustrated Del Toro, having already worked on the movie for the last 18 months. He was looking for an extension to spend more time preparing the movie.  His frustrations went public in May of 2010.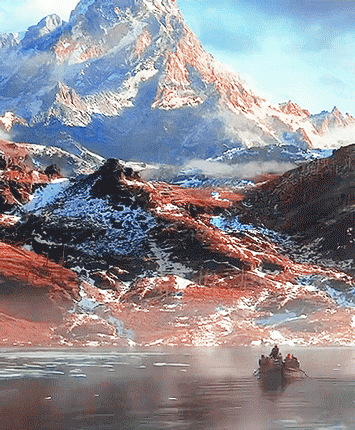 "We have designed all the creatures. We've designed the sets and the wardrobe. We have done animatics and planned very lengthy action sequences. We have scary sequences and funny sequences and we are very, very prepared for when it's finally triggers, but we don't know anything until MGM is solved."
Two days after that interview, Del Toro quit. Jackson showed support for Del Toro, understanding that the director had other commitments, but he was in a bit of a panic.
"We understand how the protracted development time on these two films, due to reasons beyond anyone's control – has compromised his commitment to other long-term projects."
Oh yeah, The Hobbit was originally going to be two movies, but at one point it got extended to three.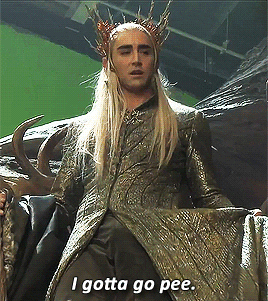 Back to the production problems, with no other clear options to take Del Toro's place, Jackson stepped in as the director. With over three years of pre-production already having taken place, he had little time to plan his approach. He and his team were forced to spend 21 hours a day reshaping Del Toro's unique vision to fit his own style.
"It was his artistic vision and I couldn't make that movie … It shouldn't be me. I can't put my head into somebody else's idea – I have to generate it from the beginning."
This resulted in an overall rushed production. They often filmed scenes without completed scripts, no storyboards, and Jackson ended up making up a lot of the films as the production went along. Weta Workshop creative director Richard Taylor described the production in an entertaining way.
It's like "laying down the tracks for a moving train as it's hurtling towards you."
Jackson would even tell the crew to take extended lunches at times, just so he could get his head wrapped around the next few scenes they needed to shoot. This approach mostly worked with the first two Hobbit movies, but the Battle of the Five Armies clearly suffered. When it came time to film the final chapter in Jackson's Middle Earth saga, they pretty much had no plan.
After reading about these production problems, it's a miracle these movies are even watchable, let alone entertaining. They really should have given Jackson at least one extra year to prepare, because then we probably would have got a much stronger trilogy as a whole. It probably also would have made more money.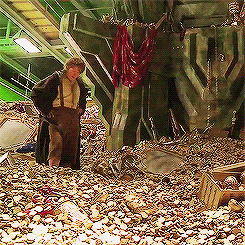 Of the three Hobbit movies, Desolation of Smaug is generally considered the best. It enjoyed a 74% rating on Rotten Tomatoes with an average score of 6.5 – a full 10% better than An Unexpected Journey. Empire's review stated "Middle-earth's got its mojo back. A huge improvement on the previous installment, this takes our adventures into uncharted territory and delivers spectacle by the ton." Time magazine declared Desolation of Smaug in their top 10 films of the year, stating "In all, this is a splendid achievement, close to the grandeur of Jackson's Lord of the Rings films." Rolling Stone wasn't as positive, giving it 2 out of 4, but the review stated that it was "a little less long and a little less boring."
Desolation of Smaug earned $958 million worldwide, from a budget somewhere between $217 and $260 million. It didn't earn quite as much as An Unexpected Journey, but with a smaller budget, it's possible that it was actually the more profitable of the two.
As for my own thoughts, I'd agree that this is the strongest entry in the Hobbit trilogy. It's still got pacing problems, but the movie moves faster than the other two Hobbit movies. Some of its action scenes are too goofy or too cartoonish to take seriously, most notably the river chase. But overall, Desolation of Smaug has a more consistent tone, with several genuinely intense moments where you fear for the characters' safety. Well, at least for the characters who aren't in Lord of the Rings anyway. Unlike the mildly annoying Radagast, most of this movie's added characters are perfectly fine.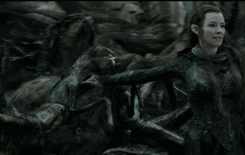 Legolas isn't the most exciting character from the original trilogy, but Orlando Bloom returning to the role is a welcome addition. He is after all from the same woods that the dwarves travel through in this movie. There's also Evangeline Lilly as Tauriel, a female elf created for the film. The fan reception of her character is a bit mixed, especially because of her rushed love story between her and one of the dwarves, but I've got no problem with her being there. Last, but certainly not least, you've got Benedict Cumberbatch as Smaug. He is the perfect casting for the voice of the titular dragon, with a great blend of aggressive behavior, curiosity, and confidence. Cumberbatch also plays the Necromancer.
This movie is at its best when it focuses on the main Hobbit story. The fight scene in the forest with the spiders is creepy in all the right ways. Everything about the Smaug sequence at the end of the movie is brilliant, with the tense conversation between Bilbo and Smaug. It's also fun watching the dwarves trying to lure Smaug into a trap, while barely surviving the experience. Even if a couple moments in that action sequence are a bit over the top.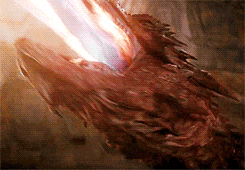 Some of the story additions in this movie work better than the other two Hobbit movies. Sure, the slimy character in Lake-town feels pointless, but the Lake-town politics as a whole helps deepen the overall plot. The orcs chasing after the dwarves leads to several great fight scenes later in the movie.
That said, this movie still feels overly long and bloated. As much as I like all the stuff with the necromancer, it probably should have been saved for the final movie in this trilogy. Or better yet, tell the story of The Hobbit in two movies as originally planned, and then focus the third movie on the Necromancer and other material that builds up towards the Lord of the Rings trilogy. Instead, we end this movie on a double cliffhanger, one of which feels like filler material. One cliffhanger sees Smaug flying towards Lake-town, while the other sees Gandalf in the middle of a fight with an extremely powerful enemy.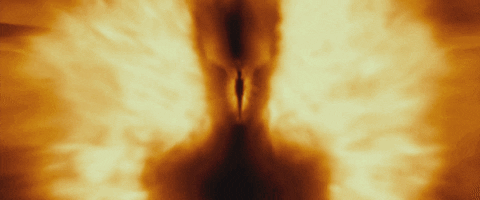 I won't spoil who that is in case you haven't seen this movie, but it makes for too significant of a scene to have at the same time as the Smaug battle. It's just too much at once. This double cliffhanger becomes a bigger problem once we get to The Battle of the Five Armies however.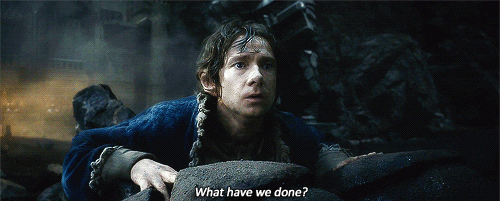 This is easily my favourite of the Hobbit movies, and when I first saw it, I hoped it would mean the Battle of the Five Armies would improve further. It gave me hope that this trilogy could end up being nearly as good as Lord of the Rings as a whole. It's also a fantastic dragon movie, showcasing Smaug as intelligent, aggressive and extremely dangerous. Next up is Battle of the Five Armies, and then we'll get into the Lord of the Rings trilogy.