Peter Jackson's Hobbit trilogy went through a number of production difficulties, which I wrote about in my previous Hobbit movie post. To sum it up, it involved late director changes, shooting with an incomplete script, and spreading the original plan for 2 movies into 3 movies. Despite that, the first two movies turned out relatively well. An Unexpected Journey is mostly good; it just dragged at times, and some of the added scenes felt pointless. Desolation of Smaug is almost a great film. The Battle of the Five Armies on the other hand is where all the production troubles add up.
Battle of the Five Armies was mostly comprised of footage filmed for the first two Hobbit movies, yet to make a third, it needed a bunch of extra filming. The original plan was also to only show material from the Hobbit book for the two movies, and that likely would have worked. That was the plan of original director Guillermo del Toro, at least after he considered showing the full story in the first movie, and the second movie would some events not seen in the first movie. The second film was supposed to bridge material to connect The Hobbit to Lord of the Rings as well. However he also talked about if they couldn't figure out a coherent story for that film, they'd just split The Hobbit into two parts.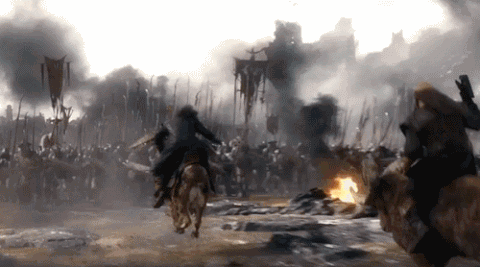 Jackson sort-of kept with the plan of splitting the book into two movies, but also added a bunch of appendix material found in the back of the Return of the King book. A lot of that material is split between Desolation of Smaug and Battle of the Five Armies. They were only allowed to draw material from either The Hobbit or Lord of the Rings, as they didn't have the rights to The Silmarillion or Unfinished Tales.
Also, the original plan was to have the two movies called An Unexpected Journey and There and Back Again. When they split the book into three films, Desolation of Smaug became the middle chapter. They then retitled the third movie to Battle of the Five Armies, as they felt it captures the focus of the film much better than "There and Back Again." This is a decision that The Tolkien Society supported. There and Back Again could have worked for a 2-picture format though.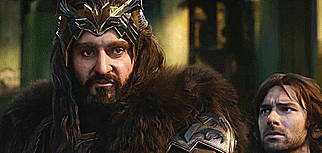 Because I haven't spoken about the casting for this trilogy yet, let's talk about it now. Martin Freeman was approached early on to play Bilbo Baggins, but at first he was forced to turn it down. It would have conflicted with his schedule for the BBC Sherlock series. At the time, Freeman said,
"If something could be worked out, that would be great. I did it with a heavy heart, definitely."
Peter Jackson also stated, "Despite the various rumors and speculation surrounding this role, there has only ever been one Bilbo Baggins for us. There are a few times in your career when you come across an actor who you know is born to play a role, but that was the case as soon as I met Martin Freeman."
They eventually found a way to make it work, and they announced his casting in October, 2010. Later that month, they also announced Richard Armitage as Thorin Oakenshield and Aidan Turner as Kili, among others. On Armitage's casting, Jackson said, "Richard is one of the most exciting and dynamic actors working on screen today and we know he is going to make an amazing Thorin Oakenshield."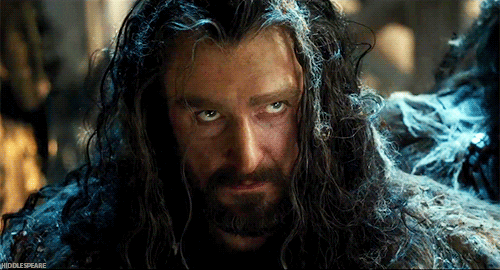 I've got to agree with all of these quotes for both Freeman and Armitage. Freeman is perfect as Bilbo, bringing with him a great sense of humour, brilliant dramatic moments, and just the right quirks to balance Bilbo's sense of adventure and his growing courage. Armitage is charismatic as the leader of the Dwarf company, showcasing a lot of intensity, dramatic range, and he sells Thorin as an intelligent yet perhaps unwise leader.
Later in December, Ken Stott joined the cast as Balin, and Sylvester McCoy was cast as Radagast the Brown. It was announced that Cate Blanchett would return as Galadriel, Ian McKellen would reprise his role as Gandalf, and Hugo Weaving returned as Elrond. Also, Orlando Bloom returned as Legolas, with a role nearly as large in Battle of the Five Armies as his role in each of the Lord of the Rings films. All of the returning stars remain perfect in their respective roles. Last but not least, Christopher Lee returns as Saruman. The Battle of the Five Armies was his last movie released in his lifetime and his final onscreen appearance.
As with The Desolation of Smaug, Battle of the Five Armies was a major success, earning $956 million worldwide. However, it's the lowest grossing film of the Hobbit series, despite how it was expected to earn over $1 billion. Some people credit that to plunging exchange rates, but it's also the lowest grossing of the Middle Earth adaptations at least within North American markets.
It also received mixed reviews from critics, only earning a 59% on Rotten Tomatoes with an average score of 6.2/10. Variety's positive review stated "The result is at once the trilogy's most engrossing episode, and its most expeditious (at a comparatively lean 144 minutes)." The Hollywood Reporter's review says, "After six films, 13 years and 1031 minutes of accumulated running time, Peter Jackson has concluded his massively remunerative genuflection at the altar of J.R.R. Tolkien with a film that may be the most purely entertaining of any in the collection."
Some of the more negative reviews are fairly harsh. The BBC's review considered the Battle of the Five Armies a technical achievement, but criticized the "repetitive battle sequences and a lack of plot". The New York Times review stated "Bilbo may fully learn a sense of friendship and duty, and have quite a story to tell, but somewhere along the way, Mr. Jackson loses much of the magic." These quotes from the Telegraph review are kind of amusing: the film is "a paragraph on steroids" and "a series of stomping footnotes in search of a climax."
The Battle of the Five Armies also happens to be the only Middle Earth movie of Jackson's that didn't even earn the Academy Award nomination for Best Visual Effects, only earning one nomination for Sound Editing. Compare that to the Lord of the Rings trilogy, in which all three movies won that award. It's the only movie in the Middle Earth saga to only earn one nomination. It did however win two Saturn Awards, one for Best Fantasy Film, and another for Armitage for Best Supporting Actor.
I watched this movie almost a week ago for this blog post, and I'm only getting to this now partly because I was busy with work related things, and partly because I wasn't really looking forward to writing this particular blog post. It feels like there isn't really much to talk about with this movie, besides what some of those critics say.
The Hobbit: The battle of the Five Armies is a mess. It essentially takes a single chapter from a children's book and turns it into a full movie, with an incomplete script on top of that. The double cliffhanger from The Desolation of Smaug starts this movie with Gandalf captured by the recently returned Sauron, while Smaug the dragon is about to torch Lake-town. The torching lasts about 5 minutes, and despite how the dragon is burning down pretty much the entire city, he leaves the one tower alone so that Bard can shoot him with a special arrow. The writing in this scene feels kind of lazy, and it's a letdown from the awesome build-up from the previous movie's cliffhanger ending.
The scene where Gandalf, Radagast, Elrond and Galadriel fight Sauron and the nine ringwraiths is more entertaining, but it feels like it should have been concluded in the second movie so that the third movie could begin with the hobbits entering the mountain instead. This simple re-arrangement would not only give both movies more focus, but it would give the third movie more story to tell than a single battle. The whole White Council sequence just feels like a tacked on teaser for Lord of the Rings here.
The battle of the five armies takes up most of this movie's runtime, and while there are breaks in the action to focus on Thorin going mad, it gets exhausting after a while. This kind of action overload works for a movie like Black Hawk Down because you feel the exhaustion of the soldiers as they're struggling to survive. It works because you experience at least some of what those soldiers went through during the botched raid in Mogadishu. It doesn't work in a movie that's supposed to be entertaining. Jackson's King Kong has this same problem.
On top of that, Legolas's acrobatic feats reach absolutely ridiculous levels during his duel with Bolg (the orc tough guy). He impales a troll's head and guides him to a tower, knocking it down to create the perfect bridge to Bolg. He somehow manages to avoid falling down hundreds of feet by running up falling bricks. It looks like something out of a Super Mario game. He impales Bolg's brain and leaps off, just as the makeshift bridge finally collapses. There's more to it, but this fight scene is beyond cartoonish. It's impossible to take seriously.
To me, this is the moment that the movie just gives up.
The relationship between Kili and Tauriel also feels forced. Although their scenes are done well enough that you could buy a romantic connection between them, they really don't get to spend much time together. It was handled better in the Desolation of Smaug than in this movie, because they at least had some decently written conversations. Here, they really only get a couple glances early in the film, and then they fight alongside each other against Bolg. It is fun seeing Tauriel (played by Evangeline Lilly) get involved in the battle, and I don't mind her addition to the story as she's not in the books, but she could have been written better.
The armies of the orcs and goblins use these giant worms to enter the battlefield. These giant worms look awesome, and could be potentially huge threats. Good thing we never see or hear of them again, right?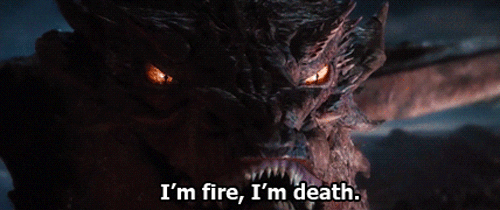 Probably the worst aspect of this movie is regarding a character that, as far as I recall, isn't in the books. At least, he's not named in the books. It's Alfred, the Master's Deputy of Lake-Town. He's a slimy, cowardly politician who orders spies at Bard's house in the second movie, and spends most of this movie cowering from the battle and stealing treasure.
He's got no real purpose in these movies. He learns nothing, and his only real contribution in Battle of the Five Armies is that he accidentally launches himself into a troll's mouth in the extended cut. He and the troll asphyxiate each other, saving Gandalf in the process. Yeah … he feels like he's an attempt to have a Wormtongue like character in The Hobbit, yet Wormtongue actually had a point. He was a manipulator working for Saruman, yet slowly learned how dark and evil Saruman's plans were. He eventually turns on the dark wizard. His character arc is subtle, but it's there.
This movie isn't without its merits though. Thorin's madness, and later recovery, is handled very well. His death scene where he reconciles with Bilbo is masterfully acted and written. Bilbo's farewell scene to the surviving dwarfs is also very well done, with the group falling just short of saying goodbye as if they all hope to meet again.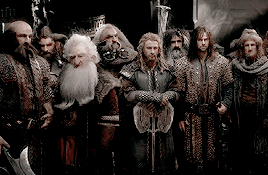 The Battle of the Five Armies is by no means a bad movie. Parts of the battle are entertaining, like the final confrontation between Thorin and Azog (the orc commander). There are some genuinely good dramatic moments. But as a whole, this is mess, and one that feels overly long despite being the shortest entry in Jackson's Middle Earth saga. Would I recommend you see it? If you've seen the other two Hobbit movies, I would. But as this is how the Hobbit movies end, I'd only give a cautionary recommendation to the trilogy as a whole.
Sometime in the next week, I'll begin my Lord of the Rings posts. Unlike the Hobbit movies, where I've only seen the theatrical cuts, I'll be watching the extended versions of the Lord of the Rings movies.