I'm best described as an excitable, casual sports fan. Outside of the Olympics, I generally only pay attention to Hockey, Baseball and Swimming. Hockey because I'm Canadian, Baseball because I used to play it as a kid, and I've got plenty of family and friends who still play it, and Swimming because I love swimming. I can get excited about sports, but I also generally only pay attention when a team I like is doing well.
But even with the sports I enjoy, I often enjoy stories more than watching games, or even highlight reels. I generally enjoy watching documentaries about superstars like Wayne Gretzky (often considered to be the greatest hockey player in history) or Michael Phelps (he really shouldn't need an introduction) more than watching an actual game or race. And I can enjoy watching the occasional games and highlight reels whenever a team I like wins. Blooper reels for any sports can also be fun, but you get the idea.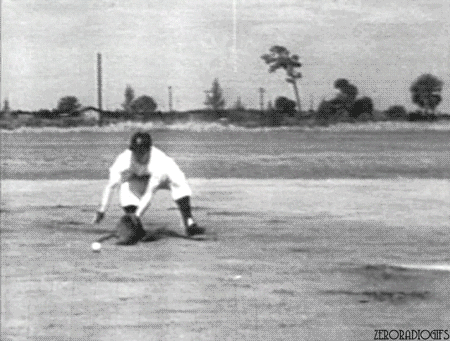 So a movie based on a sports player who changed the game is right up my ally. That's exactly what 42 is. It's about Jackie Robinson, who in 1947, became the first black baseball player to play in Major League Baseball. When the Brooklyn Dodgers signed him, they heralded the end of racial segregation in professional baseball that relegated black players to their own leagues since the 1880's. This isn't the only movie about Robinson – in fact Robinson himself started in The Jackie Robinson Story in 1950, back when segregation was still affecting most other teams in the MLB.
The movie stars Chadwick Boseman (Black Panther) as Jackie Robinson, Harrison Ford as Branch Rickey (the executive who both signed Robinson to the Dodgers, created the framework for the modern minor league farm system, and introduced the batting helmet) and Andre Holland as Wendell Smith (a black sports writer influential in picking Robinson for the Dodgers).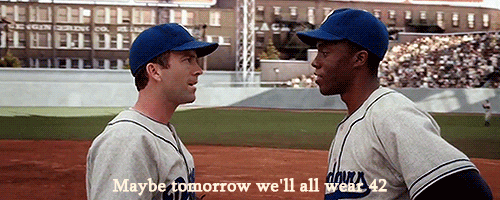 Spike Lee started the project back in 1995, when he planned to write and direct a movie based on Robinson. Turner Pictures agreed, and the original plan was to release the movie in 1997, to coincide with the 50th anniversary of Robinson breaking the colour barrier. They also wanted Denzel Washington to star. The project fell apart in 1996 due to creative differences. Lee shopped around to different studios, including Columbia Pictures, who signed him to a three-year first-look deal. That also fell apart, and Lee eventually abandoned the project. A couple other attempts to get the movie rolling came and went, until in 2011, Legendary Pictures announced they would develop a Jackie Robinson biopic with Brian Helgeland to write and direct.
Robinson's widow, Rachel Robinson (who is still alive), consulted with the project to ensure that the movie would be authentic.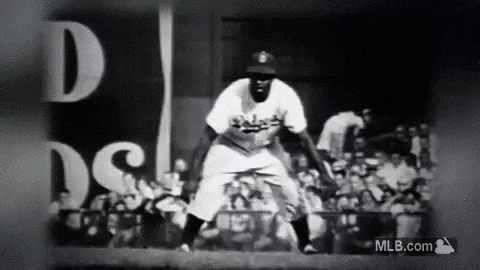 Most of the movie's baseball games were filmed at Engel Stadium, with a bit of reconstruction done to make it look like the old Brooklyn Ebbetts Field. They also used old photographs and stadium blueprints to recreate other classic fields in the movie. Other major film locations included Macon in Georgia, Birmingham in Alabama, and Chattanooga, Tennessee.
The movie received generally positive reviews, earning an 80% on Rotten Tomatoes. Rachel Robinson praised the end result, saying "It was important to me because I wanted it to be an authentic piece. I wanted to get it right … I love the movie. I'm pleased with it. It's authentic and it's also very powerful." Richard Roeper's review called it a competent but mostly unexceptional film about an extraordinary man. The Denver Post said, "This story inspires and entertains with a vital chapter in this nation's history." The cast was generally praised, notably with Ford's genuine yet slightly cartoonish portrayal of an executive, and Boseman's convincing portrayal of a skilled athlete who is keeping his true feelings bottled up.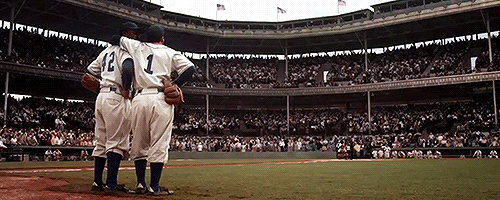 I won't go so far as to say this movie is amazing, but it is well made. You do get a sense that Robinson was not only a great baseball player (which he was), but emotionally strong. There's a good balance of game footage, character moments and political exposition. Some of the dramatic moments feel a bit repetitive, like the multiple times Robinson asks Rickey why he signed a black player onto the Dodgers. The minimal focus on Jackie's son also feels like it should have been either expanded on, or ignored altogether to focus on other dramatic elements. What this movie handles very well is Jackie's toughness, most of the other Dodgers slowly accepting him as one of their own, and the atmospheric feel of the late 40's.
There's not much else to say about the movie itself, and since this isn't a sports blog, I won't go into Jackie's career stats, as impressive as they are. What I will say is, Jackie influenced baseball in more ways than just his skin colour. He is generally considered to bring in an era of more aggressive base running. He could run bases faster than most, and combined that with his hitting strength well. Author David Falkner referred to him as "the father of modern base-stealing." He and another black player who joined the league later, Minnie Minoso, were the only two players between 1947 and 1956 to accumulate more than 125 successful base steals while also slugging at above .425. He was also considered to be a great fielder, able to excel in multiple infield positions and in the outfield.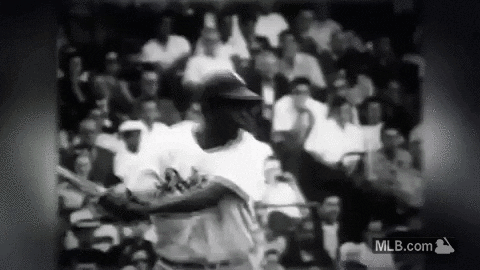 While the movie doesn't specify these too much, it does a good job at portraying Jackie's talent for stealing bases and hitting home runs. The movie also shows him getting a lot of walks, and it is true that in his career, he actually had far more walks than strikeouts. That's very rare by the way.
Whether you're into baseball, or are interested in a genuine look at overcoming racism within the sporting world, this movie is an easy recommendation. It's not without minor filmmaking flaws, but it feels genuine. The acting is great. The historic inaccuracies are minimalistic and don't hurt the movie at all. I've also heard that The Jackie Robinson Story is also good – potentially an even better movie, but I haven't seen it.
I haven't decided what's next for this month, but I will end True Story Movie Month on James Cameron's Titanic, which I haven't seen since before Avatar released in 2009. It's about time I see it again.