Of the four movies I looked at this month, this was the one I've been looking forward to the most. I had only seen it once before, but I remember it being not only very impressive from a production standpoint – even by today's standards, but a fairly good and deep movie. Yet it had been long enough that I only remembered the very basic story points. I long since forgot most of the details and character relationships.
Ben-Hur, released in 1959, is very well regarded in the film industry. The critical reception was overwhelmingly positive from the start, with the New York Times calling it "a remarkably intelligent and engrossing human drama." Los Angeles Times called it "magnificent, inspiring, awesome, enthralling, and all other adjectives you have been reading about it." Most of the negative reception revolved around its running time. It won 11 Academy Awards, out of its 12 nominations – the first of the three movies to earn that many awards (the other two being Titanic and Lord of the Rings: The Return of the King). It won Best Picture, Best Director, Best Actor (Charlton Heston), Best Supporting Actor (Hugh Griffith), Best Art Direction-Set Direction, Best Cinematography, Best Costume Design, Best Special Effects, Best Film Editing, Best Music, and Best Sound Recording. The only award it didn't win was the Best Adapted Screenplay award, losing to Room at the Top. Most people attributed that loss to a controversy over the writing credit. Otherwise this could have even won all 12 awards. More on that later.

The Best Soundtrack award in particular is interesting. Not only did Ben-Hur win that award, but at over 3 hours in length, it still remains the longest soundtrack ever composed for a film. Miklos Rozsa composed the soundtrack, and his work earned him 3 Academy Awards (others include Spellbound and A Double Life) and 17 nominations, making him one of the most celebrated composers of his day. Originally from Hungary and trained in Germany, he moved to Britain before the Second World War began, and then moved to the United States in 1940, where he eventually became a citizen.

Anyway, Ben-Hur is not only an adaptation of Lew Wallace's 1880 novel, Ben-Hur: A Tale of the Christ, but it's also a remake. A silent film of Ben-Hur released in 1925, which itself came after a 15 minute short from 1907. That original short film is noteworthy as it was made without the permission of the author's estate. That was fairly common at the time, but this particular case was based on one of the bestselling novels of all-time. The author's estate sued the studio, and the United States Supreme Court eventually ruled against the film company. That lawsuit helped start copyright law as it exists today.
The 1925 film was very well received in its own right, however it was also controversial for its animal abuse during filming. It's been reported that around 100 horses were killed during the production of the chariot race.

In 1952, MGM announced plans to remake the film, partly as a way to spend its Italian assets. They went through a number of possible leads, including Marlon Brando, Stewart Granger, Robert Taylor and yes, Leslie Nielson (long before he was more known for comedy than his serious roles of the time). However after 4 years, the initial director resigned and they suspended production. The success of 1956's The Ten Commandments, along with increasing competition from TV, convinced MGM to go ahead with Ben-Hur. More than 12 versions of the script were written by various writers by the spring of 1958. Eventually, they hired Wyler William Wyler to direct, who previously worked as one of the 30 assistant directors on the 1925 film. Wyler initially rejected it, calling the script no better than hack work, but MGM convinced him to sign on after giving him a $10 million budget and showing him their storyboards for the chariot race.

He partly took on the role for competitive reasons, as he later admitted he wanted to outdo Cecil B. DeMille's work on The Ten Commandments. He wanted to make a "thinking man's" biblical epic. When they hired him on, he took a different direction with the writing. He felt the current draft was too much of a morality play overlaid with current political overtones. He also didn't like the modern sounding dialogue. The writing process involved a full team, including the likes of Karl Tunberg, Gore Vidal, Christopher Fry, Maxwell Anderson. It's said that Fry wrote a good chunk of the dialogue. Despite multiple writers working on the project, only Tunberg received any credit. That led to a bit of a controversy that among other things, likely cost the movie its 12th Oscar.
Several actors were offered the lead role of Judah Ben-Hur before Charlton Heston accepted. Stephen Boyd soon accepted the role of the lead antagonist, Messala. Wyler originally wanted Heston for the role of Messala, but after several actors turned down the role of Ben-Hur, he needed to switch the cast up. Marie Ney was originally cast as Miriam, but when she couldn't cry on cue, they fired her 2 days into filming. Heston then suggested they cast Martha Scott, and they hired her within days. Lastly, they hired Wyler's sister-in-law, Cathy O'Donnell to play Tirzah, despite her career being in decline at the time. Despite the movie performing very well, that would be her final movie role.

The production for the movie was impressive. It involved 300 different sets, involving 9 sound stages. Over 100,000 costumes and 1,000 suits of armour were made, and over 10,000 extras were used. More than 400 pounds of hair were donated for wigs and beards for production. Two scenes particularly stand out during production. The first of which, the sea battle, was among the first sequences filmed. More than 40 miniature ships, and two sea worthy 175-foot Roman galleys, were built. They used a massive 200 foot backdrop to hide the nearby city from the cameras.
The set used for the chariot race was the largest set ever created at the time, and it alone cost $1 million to build. Planning for that scene took nearly a year to complete. Unlike the 1925 film, no horses were killed in the filming of the race, however there was a near fatal accident with one of the stuntmen. In fact this inspired an urban legend where a stuntman died during filming. The accident involved a stuntman being tossed into the air by accident, and suffered a minor chin injury. At first they thought the footage was unusable, but  they eventually decided to film Ben-Hur clinging on the front of his chariot and climbing back in. That accident is among the race's most memorable moments.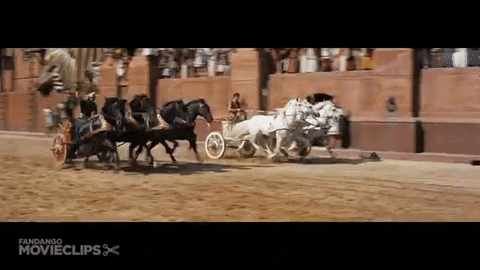 There was a death during production however. Producer Sam Zimbalist suffered a heart attack on set, which he later died of at his nearby villa. He actually remains the only person to posthumously win the Best Picture award, which his wife Mary accepted for him.
The movie ended up earning $146.9 million in its initial release alone, from a $15 million budget. It was both the fastest and highest grossing film of 1959, and second only to Gone with the Wind for highest grossing of all-time. It earned another $10 million with a 1969 re-release, and has done fairly well on home media.

In 2011 in particular, Warner Brothers released a 50th anniversary release, for the first time in its original very wide aspect ratio. It's actually an 8k scan of the original negatives, a restoration that cost $1 million alone. It also includes a new musical soundtrack-only option. And now that I know that exists, I want it on 4k Blu-Ray.
Ben-Hur is a very good movie, fully worthy of its recognition. Yes, it's a long movie (third longest in history at the time of release), but despite its deliberate pacing, it doesn't really feel slow. Most of the drawn-out sequences enhance the dramatic aspect of the movie. The scene where a group of condemned prisoners are forced to row faster and faster, until they start dropping to the floor in exhaustion, while Ben-Hur continues to glare at the ship captain, feels like it's just the right length.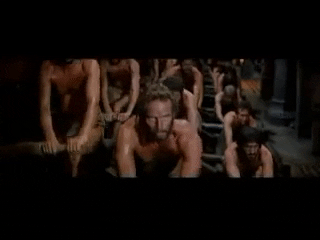 The movie contains several very large sets, all of which show clear attention to detail. The acting is fantastic all-round. Ben-Hur's personal journey feels real. He starts off as generally optimistic and kind, but Messala's betrayal turns him into an angry, bitter man who starts shutting everyone out. Eventually it comes full circle when he finds a new sense of optimism and purpose when he personally witnesses a miracle.
As much as this movie does contain Christian themes, and it does show a positive portrayal of early Christianity, it's not what you would call a Christian film. It goes out of its way to show a more pluralistic society, with a clear admiration for Jewish culture, and even showing some of the Romans in good light. These themes are used as more of a sub-plot and setting than a central focus. If anything, that makes the movie work better.

Ben-Hur represents an era of filmmaking that is pretty much extinct. The last time we've seen this kind of epic on screen is Titanic. Now people prefer to use CGI over hundreds of extras, even Titanic director James Cameron with his Avatar franchise. Even the 2016 remake failed to capture what the 1959 version accomplished. It ended up being one of the biggest box office bombs of 2016, and also received overall negative reviews.
Ben-Hur is an easy recommendation for fans of classic cinema. In fact, it's worth watching for most lovers of film in general.

Next month, I'm going to start looking at all of Disney's live-action remakes. Instead of looking at them in order of their release, I'll look at them in order of the original animated movie releases. Hence, Dumbo's remake will be first. Since Dumbo is a fairly polarizing movie, I have no idea what to expect from it. I'll be going into it with an open mind. But it bombed, so I won't be hoping for much. Next up will be Cinderella, followed by the Disney + exclusive Lady and the Tramp.