Three movies into this Disney remake series and we're already looking at the second Tim Burton directed movie. Burton can be a brilliant filmmaker, but his strange style can also be detrimental to certain types of films. For example, The Night Before Christmas is widely considered a classic for both Halloween and Christmas, and deservedly so. His Dumbo remake on the other hand … yeah, we talked about that already. His movie about Ed Wood is up there with my favourite dramatic films, and one I would definitely look at if I ever do a biographical film theme month. An Ed Wood theme month would also work for it. His Batman movies are very polarizing, especially Batman Returns. Edward Scissorhands is supposed to be a work of art (haven't seen it), yet a lot of people strongly disliked his Dark Shadows and Planet of the Apes movies.
His taste for the strange seems to make him the perfect pick for directing the remake of Disney's Alice in Wonderland, which itself is easily the strangest of Disney's animated movies, by intention. Yet even though this remake earned over $1 billion worldwide in theaters, and also earned over $1.6 billion in home video and merchandise sales, the reception has been mixed across both critics and audiences. It was mixed enough that it clearly affected Alice Through the Looking Glass in 2016, which flopped, even despite being Alan Rickman's final role. That clearly wouldn't have happened if audiences liked the first movie more.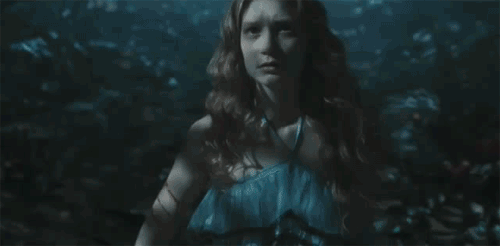 Back in 2007, Burton signed a deal with Disney to direct two movies: a remake of Alice in Wonderland, and Frankenweenie (which itself is a remake of one of Burton's earlier short films). It's worth noting here that Frankenweenie, while moderately successful, was very well received. Burton started developing his own story, as he never felt any kind of emotional tie to the original book. To me, that right there would be a warning sign.
"The goal is to try to make it an engaging movie where you get some of the psychology and kind of bring a freshness but also keep the classic nature of Alice." He didn't like how the original works were just about a girl wandering around, meeting different crazy people, and how he never felt emotionally connected. He also didn't want to see the film as either a sequel or a re-imagining. If anything, the movie borrows minor plot elements from the 2000 game, American McGee's Alice, as the final fight in both the movie and game is between Alice and the Jabberwocky on a tower. I'm not sure whether that was intentional or not, but that itself is not the problem with this movie.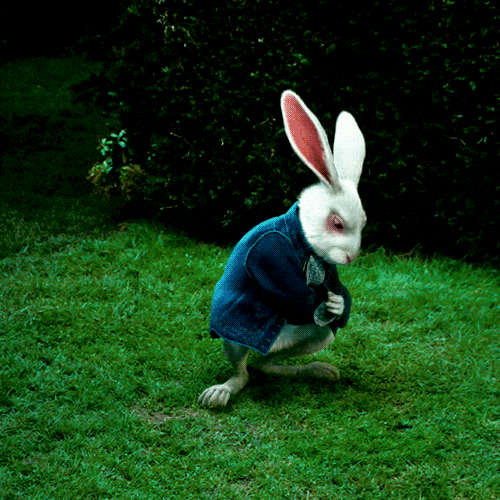 Originally set for a 2009 release, it was pushed back to May of 2010 because the filming itself got delayed. The filming actually concluded on Mia Wasikowaska's 19th birthday (she portrayed Alice in the film). Most of the outdoor shots took place in England, while the rest of the filming took place at Sony Pictures Studios in California, though all of that footage was later discarded. Other filming took place at Culver Studios in California.
Burton said that this was the first movie he directed that used the green screen, and due to the weird fantasy environments of wonderland, it was for about 90% of the film. Several cast members felt sick from the constant green environment, and Burton used lavender lenses in his glasses to counteract the effects. The visual effects team also commented on how the film was exhausting to work on.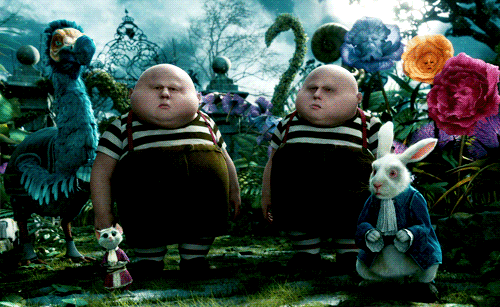 They did a good job however, as the movie earned a nomination for Best Visual Effects at the Academy Awards, where it also won awards for both Art Direction and Costume Design. And yes, from a pure visual standpoint, the movie earned all of those awards. If nothing else, the movie is a visual treat. Not only have the digital effects aged fairly well, but it's a very creative looking movie on pretty much every level.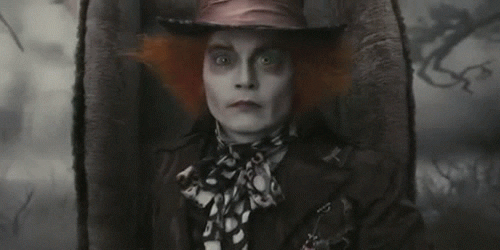 Despite the movie's obvious visual appeal, it's not all that great. The story often feels unfocused, as Burton is often more interested in exploring the weird characters than he is with the title characters. In that sense, it suffers the same problem that Batman Returns did. The story features a 17-year-old Alice instead of a child, and that itself is not a problem. However, instead of digging into why an adult still has a wild enough imagination to come up with Wonderland, or exploring whether it's a real place or not, she's just along for the ride. She merely talks about how this experience is a dream, and that she's in charge. Yet she still gets scared sometimes, and other characters keep insisting that she needs to fight the Jabberwocky, whether she wants to or not. Alice could have come across as a fascinating character, and Wasikowaska does fine with the material she's given, but she's really just here to follow the story along. She comes across as boring.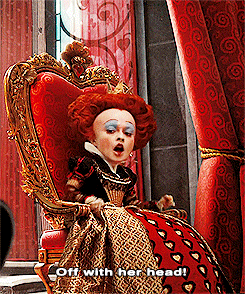 The movie often instead focuses on Jonny Depp's The Mad Hatter, or Helena Bonham Carter's Red Queen. Yup, this is the second movie featured on this blog in a row that features Carter. I didn't know that going into this movie. Anyway, The Mad Hatter doesn't actually feel that crazy in this movie. He looks crazy thanks to his costume and visual design, but he really just feels like Depp being Depp. Carter on the other hand is awesome as The Red Queen. She's perfect at being calm and "sweet" one moment, and experiencing psychotic outbursts of anger the next.
Other characters include the Cheshire Cat, voiced by Alan Rickman, and the White Queen, played by Anne Hathaway. There are plenty more, but let's just focus on those two. The Cheshire Cat has a fun, sarcastic feel to him. The White Queen on the other hand comes across as overly nice, and refuses to directly take part in violence … even though earlier, she's working on potions that require ingredients from dead people. She just feels off, and in a way that actually harms the movie's third act. But considering this is supposed to be Alice's dream, none of the scenes without her make any sense. Frankly, nothing should be happening when she isn't there. That's one thing that the original definitely got right. Even within a realm that by its nature lacks logic, this doesn't make sense.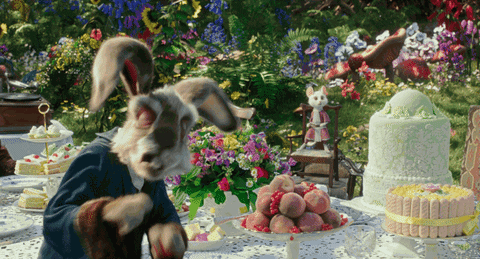 Also, the real world segments feel completely pointless and tacked on. Alice goes to this big party that's supposed to be for her engagement to some dude she isn't attracted to. She refuses in front of everyone and ends up becoming some sort of trade company apprentice. Somehow the movie needs 20 minutes to explain all of that. And in some ways, the real world feels even more surreal than Wonderland. That really shouldn't happen.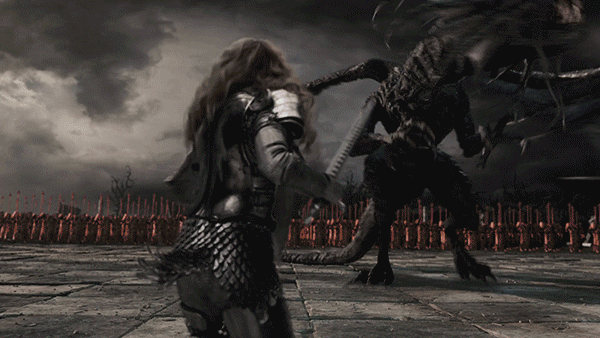 Christopher Lee voices this monster for about … 5 seconds worth.
I thought this movie was ok overall, but it could have been much better. Alice could have been written as a more interesting character, instead of just being a passive entity in her own dream. The story feels like it's trying to tell a feminist story, but it's tacked on and goes nowhere. Instead, it focuses on the weird characters in the Wonderland universe, while also not making them weird enough. Well, with the exception of The Red Queen. It makes for an overall movie that, while visually fun, just isn't worth watching. I can understand why some people like this film, but it isn't for me. Still, it's easily better than last year's Dumbo remake.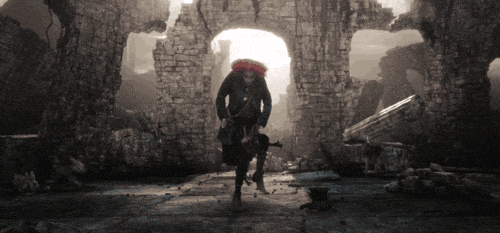 Just … why?
Next up is the Disney Plus exclusive, Lady and the Tramp. After that, it's a movie I hated watching the first time, but I'll watch it again for the sake of this blog series. That's Maleficent. Next up will be the 1990's One Hundred and One Dalmatians remake, followed by the only Disney remake I've seen that's actually an improvement over the original, The Jungle Book.