A lot of the recent criticism thrown at the Disney remakes suggests that these live action remakes barely change anything. A lot of them are far too similar to the original movie. The first three remakes I've looked at don't suffer from that problem whatsoever. If anything, Dumbo goes too far with trying to be different. And as much as Cinderella closely follows the original's story, it adds to a number of the characters and it's a very stylistically different film. This one on the other hand …
Lady and the Tramp is considered one of the more iconic Disney animated classics. At the time of its release in 1955, it was the highest earning Disney movie since Snow White and the Seven Dwarfs. Although the initial critical reception wasn't all that warm, it's now regarded as one of Walt Disney's best films. When I watched it for the first time back in 2017, I very much enjoyed it, and enjoyed it just as much when I rewatched it a couple of months back.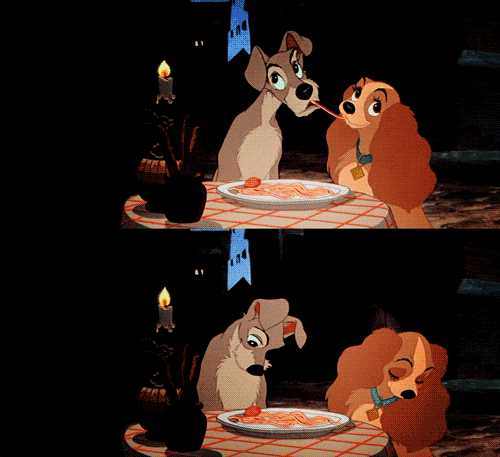 (There aren't a whole lot of gifs available for this remake online,
so I'll include some from the original instead)
The idea that Lady and the Tramp needed a remake is ridiculous. It's already a great movie that's stood the test of time. It digs into the mentality of a dog, while bumping up their intelligence and communication skills just enough to make them compelling main characters. It featured an interesting viewpoint where you very rarely see people's faces, and instead it mostly focuses on the dogs themselves. It's a stylistic choice that really worked for the movie. It's also a unique romantic movie that works very well for dog lovers, and thanks to all the animals, it's also a great adventure movie for younger kids.
If there was news about this movie being worked on, I missed it. They started working on the film in February of 2018, but it didn't seem to make much of a buzz. I only found out about this movie's existence this past January, after it had already premiered as a Disney Plus exclusive. I found it hard to believe at the moment, but I googled it the next morning, only to learn that yes, this movie actually exists. It further cemented in my mind that the Disney Corporation is leaning way too heavily on remakes lately. That is especially so when you consider it's the fourth remake Disney released in 2019 (if you don't count Maleficent: Mistress of Evil, which is a sequel to a live-action remake).
There's also not all that much information about the movie's production, besides casting announcements and that the movie does feature real animals at times. It's neat that Tramp is actually portrayed by a rescue dog. Tessa Thompson (Valkyrie in Thor: Ragnorok) voices Lady, Justin Theroux voices Tramp, and Sam Elliot voices the old bloodhound Trusty. Unlike the original, you see the faces of the human characters frequently in this movie, although I can't say I'm familiar with any of them.
Because it released straight to a streaming service, it doesn't have any real earning numbers. It has since been released on DVD and Blu-ray, but I haven't seen any sale figures for that release either. All I know is the movie was made on a $60 million budget, which sounds expensive considering I've never heard anyone talk about this movie. It kind of begs the question – why?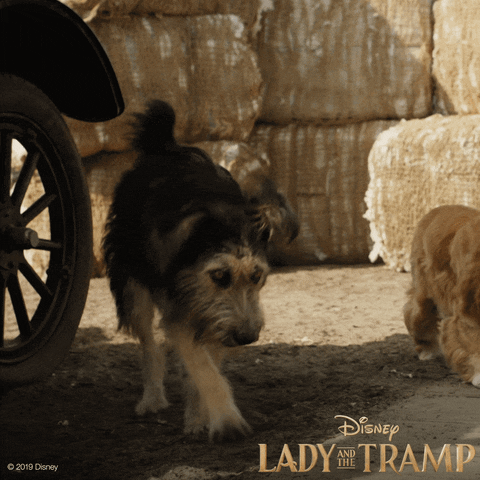 As for the movie itself, well … on the plus side, the voice cast for the dogs do a good job. The performances are pretty good in general. Uh … when the movie uses CGI, it is skillfully done. But everything about this movie feels completely pointless. This is little more than a beat for beat remake with none of the movie's original charm. It's nearly 30 minutes longer than the original while adding nothing, making this movie feel slow at times. There's something unsettling about seeing life-like dogs moving their mouths like humans when they talk, and that is never a problem with traditionally animated movies, or even pure CGI movies like Bolt. It's not quite uncanny valley like you'll often get with realistic looking CGI humans, but it's similar.
The one noticeable change they made in this movie is one of the songs. The original features the "Siamese Cat Song", in which the cats are selfishly wandering around the house as if they own the place, trying to eat the fish, and Lady is merely trying to stop them. It results in a little bit of comedic destruction. This movie changes the song to "What a shame", in which the cats are intentionally destroying furniture in the house in increasingly silly ways. I can appreciate that this scene at least tried to change something, but it's an inferior song, the cats aren't acting like cats, and the end result is the same. The only other change is that Lady's actual owners appear less competent as dog owners as they did in the original.
This remake is a complete waste of time. It improves nothing over the original, it offers nothing new beyond a forgettable new song, and it's occasionally unsettling to look at. There is no reason to watch this over the original classic, and ordering Disney Plus just to watch this is a complete waste of time and money. Even though I didn't enjoy the Dumbo remake, at least it was interesting in the way it was bad. There are some good Disney Plus exclusives, like The Mandalorian, plus it's an easy way to watch hundreds of Disney classics and TV shows that would otherwise be very expensive to track down and buy. But this movie … let's just pretend it doesn't exist.
Next up is Maleficent, which I hated the first time I watched it. After that it's 101 Dalmatians, which I very much enjoyed as a kid, and even found at least mildly entertaining when I watched it again a few years ago. After that, it's the one Disney remake so far that is pretty much universally considered an improvement over the original, The Jungle Book.