Now that I'm starting to get my life back under control, it's time to continue this series on Disney live-action Remakes. Today's subject is 2016's The Jungle Book, the remake for the last movie that Walt Disney produced. He died during the movie's production. The Jungle Book is generally seen as the best of Disney's live-action remakes so far, and for good reason. It's the only one of these remakes that I've rewatched for the fun of it, since my Disney movie blogathon back in 2017. I've got multiple friends who agree that it's the only one that actually improved on the original.
The Jungle Book is directed by Jon Favreau (he also directed the first two Iron Man movies). Plans to remake The Jungle Book were announced back in 2013. It's actually the third live-action adaptation of The Jungle Book Disney has released, with the 1994 film and its 1998 sequel. Those two movies are generally considered much closer to the original series of books than the 1967 animated film, and they do have their fans. I've always been at least curious about them, but I've never got around to seeing them. Favreau wanted to find a balance between the two very different versions, keeping the spirit of the animated movie, while also adding a stronger sense of realism and peril. He also wanted to stress the importance of nature. In the time of the books, nature was seen as something to overcome, whereas now, it's seen as something to be protected. It's said that the movie also takes some cinematic inspiration from Shane (1953), Goodfellas, and Apocalypse Now.
Pixar also helped with developing the story, as well as providing suggestions for the end credits.
As much as this is considered a live-action adaptation, there are very few actors appearing on screen. Neel Sethi plays Mowgli, after an extensive search spanning the United States, Canada, New Zealand and the United Kingdom. Thousands of children auditioned for the role. They ended up choosing well, as Sethi shows a lot of acting range. Casting director Rebecca Williams described him as intelligent well beyond his years, and he impressed the entire crew with his ability to hold his own in any situation. He also underwent parkour training to help prepare for the role.
All of the animals on-screen are done in what was then revolutionary photorealistic CGI technology. They used real life footage to help match animal movement, while exaggerating facial expressions for what feels like a healthy balance between realism and storytelling. It also helps avoid the uncanny valley effect by giving the animals some human traits, most notably Baloo frequently raising his eyebrow. These effects won the movie the Academy Award for Best Visual Effects, and similar awards for its visuals in a number of other award ceremonies. In fact, it won 5 out of its 6 nominations at the Visual Effects Society Awards, for Visual Effects in a Photoreal Feature, Animated Performance in a Photoreal Feature (from which it received two nominations), Visual Cinematography, Effects Simulations, and Compositing.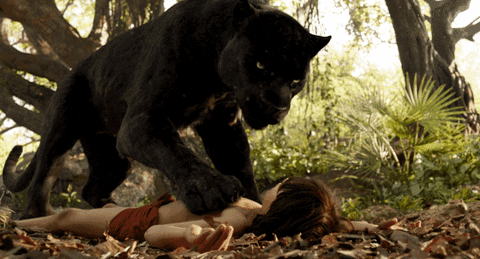 The rest of the cast includes Ben Kingsley as Bagheera, the black panther who acts as Mowgli's mentor and protector, Bill Murray as Baloo, Mowgli's bear friend, and Idris Elba as Shere Khan, the tiger who wishes to kill Mowgli. There's Lupita Nyong'o as Raksha, a wolf who acts as Mowgli's adoptive mother, and Scarlett Johansson as Kaa, the giant snake. All of these actors do a fantastic job at their role. Kingsley comes across as wise and elegant. Elba is awesomely intimidating as Shere Khan, yet there's just the right touch of venerability when it's called for. Johansson, who is a reoccurring collaborator with Favreau, adds the right touch of dark mystery to the giant snake.
Murray perfectly captures the easy going, fun attitude of Baloo. He was a favourite for the role from the start of production. Of the casting, Favreau said "he's perfect … Bill just exudes all the charm and humour that you need and expect from Baloo."  Murray also showed a lot of interest in the role early on. "I just couldn't say no to playing Baloo … Jon is a terrific storyteller and I'm such a huge fan of the original stories."
I would be remiss to not mention Christopher Walken playing King Louie. If Murray playing Baloo wasn't perfect enough, you've got the one and only Walken playing the giant ape who wants to be like Mowgli. His version of the "I Wan'na Be Like You" song is entertaining in the same sort of way as Robin Williams' numbers in Aladdin, in that they're not necessarily well sung, but there's such a sense of passion and fun behind it that it works anyway. In the original animated movie, Louie was an orangutan. They changed him to a Gigantopithecus due to the now extinct apes actually being native to India, whereas orangutans aren't.
The Jungle Book ended up being a bit of a sleeper hit, but a massively successful one at that. It earned a total of $966 million worldwide, which was the most successful of Disney's live-action remakes up until Beauty and the Beast surpassed it the next year. Although it didn't break any kinds of records in its opening weekend, strong word of mouth kept the movie strong for months, with a much lower drop between its first and second weekend than usual. In fact of movies that released with over $100 million in its opening weekend, it only suffered the fourth smallest drop of all-time, behind Shrek 2, Spider-Man (2002) and Star Wars: The Force Awakens. It also enjoyed the smallest third week drop in history for a $100 million opener, with a mere 29% drop from its second weekend. Only Captain America: Civil War could take The Jungle Book off the number one spot in theaters.
The movie was greatly praised by both critics and audiences, with a 94% on Rotten Tomatoes. The Los Angeles Times review stated "The Jungle Book is the kind of family film calculated to make even those without families wish they had one to take along." Deadline Hollywood's review commented that the film had laughs, excitement, an exceptional voice cast, and a lot of heart. Some critics, including The New York Times, were less enthusiastic, specifically pointing out the movie's inconsistent tone.
I really like this movie. I remember enjoying the original as a kid, and I can still enjoy it now through nostalgia, but it is a movie that's kind of about nothing. You can half sleep through it and not miss much of a story. Although this remake touches on all the same notes as the original, it takes a movie that's kind of about nothing and makes it about something. It re-arranges the order of the story enough so it feels new, and that alone would be enough. But it also includes themes of loyalty, family, fear, and even includes a subtle environmental message. A lot of the animals are afraid of Mowgli's intelligence and ingenuity, to the point where they discourage him from making tools to make the jungle life easier. And as much as Share Khan is clearly the movie's villain, he's got good reason to be afraid of a man cub living in the jungle. It's just that his fear turns into a self-fulfilling prophecy.
I won't say anything more, for this is a movie that should be experienced if you haven't seen it already. Yes, the tone can be a touch inconsistent, but it's balanced. There's a real sense of fun in Mowgli's adventures, made even more enjoyable thanks to the brilliant casting as a whole. But there is also a good story behind it. By no means does this completely render the original pointless, but 2016's The Jungle Book is the superior film out of the two. So far, this is Disney's only live-action remake that I would give such praise to.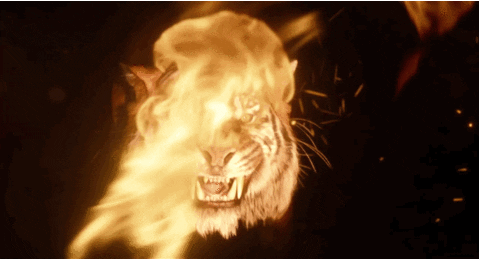 There are four movies left to look at for this blogathon, at least of the movies released so far. Next up is 2018's Christopher Robin, which isn't really a remake, but it'll be nice to include it anyway. Then there's the Beauty and the Beast remake, which I hated when I watched it three years ago. Then we'll wrap it up with Aladdin and The Lion King, each of which felt completely pointless both before and after I watched them over the Christmas break. But we'll get to that.