Of the four movies I'm planning on looking at this month, this is the only one I hadn't seen even one minute of before. Although I never watched Good Morning Vietnam until a couple weeks back, I did catch parts of it on TV every now and then when I was a kid. Yet many consider this Robin Williams' best role. In fact this is the role he won an Academy Award for. This movie also won the Best Screenplay award. So let's dig into this.
To those who may not be aware, Matt Damon and Ben Affleck are accomplished writers and not just actors. In fact they wrote the script for Good Will Hunting together, and thus hold that Academy Award for Best Screenplay. Damon actually started writing this movie as a final assignment for a playwriting class he took at Harvard University. He was supposed to write act one for a play, but turned in a 40 page treatment for this story instead. He even included his real-life girlfriend at the time in the story, and ended up crediting her influence in the final credits. Of the original script, the one scene that survived to the final picture was the moment his character and Williams's character meet.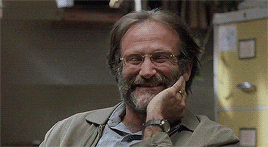 Later on, Damon would get his real life friend Affleck to help him improve on the script, which they completed in 1994. It wasn't long before the script was bought by Castle Rock Entertainment. At the time it was mostly a thriller about a mathematical genius living in the rough and tough streets of South Boston, being pursued by aggressive government recruiters. Castle Rock president Rob Reiner suggested they drop the thriller aspect and just focus on the relationship between Damon's character and his therapist, and mutual friend and director Terraence Malick further suggested some improvements over dinner together.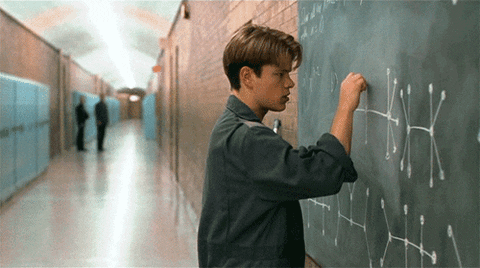 Damon and Affleck proposed to portray the lead roles, although several studios wanted Brad Pitt and Leonardo DiCaprio instead. This lead to a dispute between Damon and Affleck and Castle Rock Entertainment. Eventually with the help of Kevin Smith, Miramax pictures bought the script from Castle Rock, and they began developing the film. A number of directors were considered, until they chose Gus Van Sant. Most of the movie was filmed in Boston, but other locations included the University of Toronto and Central Technical School in Toronto (as stand-ins for MIT and Harvard since neither school usually allow filming). The Boston Public Garden bench shown several times in the movie became a temporary shrine shortly after Robin Williams' death.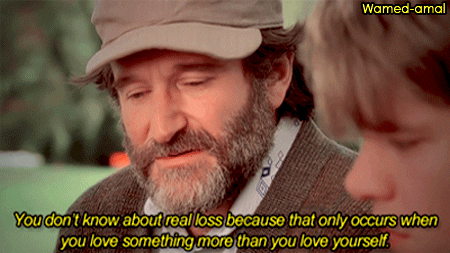 Released in 1997, Good Will Hunting was very well received. In addition to its Academy Awards, it received a 97% on Rotten Tomatoes. Some critics criticized the movie's predictable nature, but overall praised the movies. Roger Ebert in particular said that it's "the individual moments, not the payoff, that make it so effective."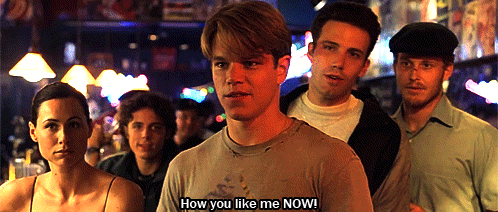 This is a really good movie. Damon stars as Will Hunting, a young man with a genius intellect and entirely self-taught in a variety of subjects. Despite this, he works as a janitor and spends most of his free time drinking with his friends and getting into trouble. His genius is discovered after he solves a very complex mathematical problem on a chalkboard in a hallway, even if it takes several weeks for the professor to find him. Williams plays Dr. Sean Maguire, a brilliant psychologist teaching at a community college, himself finding it hard to move on from his wife passing away several years before.
At first their relationship is a bit testy, with Will being uncooperative, and Sean not entirely sure how to move forward. Despite this, they quickly become friends. Will is struck by Sean's story of meeting his wife at a World Series game, which encourages him to pursue his own romantic interests despite his fear of being rejected. It's this slow interplay of each of them opening up a bit more that really sells this relationship. You believe Sean's journey to accepting the loss of his wife and moving on just as much as you believe Will's defenses slowly breaking down. You learn that the source of their psychological damage is very similar to each other, and that they help each other move on.
Ben Affleck also plays a major role as Will's best friend, Chuckie Sullivan. Chuckie and Will star the movie off with a very similar outlook on life. Yet Chuckie encourages Will in his own way, saying that he hopes his friend will move on with his gifts – gifts that he could never even hope to have.
I agree with the critics that this movie isn't exactly unpredictable. You can often see where the movie is heading before you get there and that is a minor flaw. Thankfully the performances more than make up for that. Williams puts in a brilliant dramatic performance. Even though he's only a supporting actor in this, he is very memorable. Damon is convincing as a brilliant mind trapped in a troubled young man. Affleck is fun in his role, with a lot of subtleties that show him as much nicer than his bad boy persona lets on. I agree that the predictable nature of this movie is enough that it didn't deserve the Best Picture award it was nominated for, but it's still a great dramatic movie that's worth seeing.
I've decided that my fourth movie this month will be Hook. I decided that partly because it's indirectly connected to another movie I've done before as part of my first movie blogathon. I'm strongly considering doing another Robin Williams movie month in the future though, because there's so much more to look at.