Before I started looking at movies on this blog, I read through all of the Harry Potter novels for the first time and reviewed each of them. As much as I'd like to get back into novel reading for this blog as well, I've admittedly been lazy with reading lately. With my office job that I'm still getting used to, I also don't have as much mental energy as I need to get back into writing. Even though I want to do more writing. So it's likely that I won't be participating in NaNoWriMo this year either – at least not officially. I'll probably at least try to edit the Dragonblood novel I wrote back in March.
Anyway, it's about time to look at all of the Harry Potter movies. As I said way back, my introduction to Harry Potter wasn't exactly a smooth process. One of my aunts bought us the first three books when I was around 12, and I got about a third of the way through the first one. At the time, I was trying to grow up too fast. I thought of it as a bit childish. I was also a bit gullible and fell for some of the religious controversies around the book, so I stopped.

I remember shrugging off the movies when they first released, thinking I was too old for them. After all, I was very much into Star Wars at the time, and I totally thought that was a more mature story than Harry Potter could ever be … even though The Phantom Menace is in many ways the closest that franchise ever got to a pure kid's movie. Years later, in the middle of a video game night with some friends, two of them spontaneously decided to watch The Order of the Phoenix in theaters. I enjoyed it, but that being my first movie, I was confused about a number of things. It wasn't enough to convince me to watch any more.
Finally, about a week before The Deathly Hallows Part 1 released, a very good friend of mine decided to host a Harry Potter marathon night. With nothing better to do that evening, I joined in. I stuck around for the first two movies, and enjoyed them much more than I thought I would. I ended up watching the rest of that series that same week.
Harry Potter and the Philosopher's Stone, released in 2001, is the closest the movies ever get to their books. Almost everything that happens in the book is also present in the movie. It helps that The Philosopher's Stone (originally titled The Sorcerer's Stone) is the shortest of the books. Development for the movie started in 1997, when producer David Heyman began searching for a children's book that could be adapted into a well-received film. He planned on The Ogre Downstairs, but his plans fell through. His staff then suggested Harry Potter. He pitched the idea to Warner Bros., and in 1999, author J.K. Rowling sold them filming rights to the first four books.
One of Rowling's demands was to keep the cast strictly British and Irish. She was apparently hesitant to sell the rights, as she didn't want to give Warner Bros. "control over the rest of the story". Steven Spielberg was an early contender for the director's seat, but after initial negotiations, he declined. Apparently he was considering an animated film, with American actor Haley Joel Osment to voice the title character. Spielberg ultimately decided to direct A.I. Artificial Intelligence instead.
Other directors contending for the seat include Rob Reiner, M. Night Shyamalan (we dodged a bullet there, considering how his Last Airbender movie turned out), Michael Cormac Newell (who eventually directed Harry Potter and the Goblet of Fire), Terry Gilliam (Rowling's first choice, and former member of Monty Python) and the eventual winner, Christopher Columbus. Columbus's previous directing experience with Home Alone and Mrs. Doubtfire influenced their decision.
Columbus pitched his version early on, stating that he wanted the Muggle scenes to be "bleak and dreary", while the wizarding world scenes would be "steeped in colour, mood and detail".  He took inspiration from Great Expectations (1946) and Oliver Twist (1948) for his cinematography.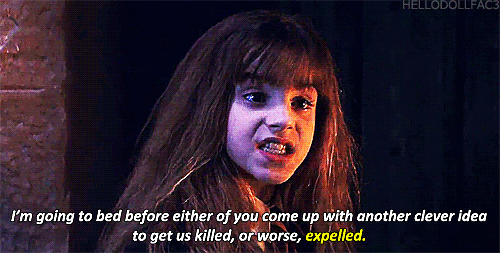 Open casting calls were announced for the three main characters, with only British children being considered. Columbus wanted Daniel Radcliffe for the role of Harry Potter after seeing him in the two-part TV special, David Copperfield (1999). Rowling endorsed this choice, saying "I don't think Chris Columbus could have found a better Harry". His parents initially turned down the offer, worried that he'd spend 4 years filming in Los Angeles, but they instead offered a two-movie contract with shooting in the UK. He was apparently paid over a million for the first movie alone, but he insisted that the money wasn't important to him. His parents invested the money for him.
Rupert Grint was chosen for the role of Ron Weasley. Part of what convinced them to cast Grint was an audition tape of him rapping about how he wanted the role. Harry Potter was actually his debut screen performance, however he did voluntarily perform on stage before joining the cast. He actually left school at 16 to focus on his acting career, which is amusingly true to his character in the films. Emma Watson also performed on stage before joining the cast, but her first on-screen performance (and her first paid role) was Hermoine Granger in Harry Potter. The casting agents found her through her Oxford theater teacher, and they were immediately impressed by her confidence. Rowling supported Watson from her first screen test.
Other major cast members include Alan Rickman as Professor Snape, Richard Harris as Dumbledore, Maggie Smith as Professor McGonagall, and Robbie Coltrane as Rubeus Hagrid. There are other cast members worth talking about, but we'll look at them in later posts. This introduction is going to be long enough as it is.
John Williams soon joined on to compose the soundtrack, further pushing the idea that if you were born any time between the early 70's and the early 2000's, he scored your childhood. His main theme, Hedwig's theme, is used throughout the series long after his final Harry Potter soundtrack – The Prisoner of Azkaban.
The Philosopher's Stone released in November of 2001 to a massive critical and commercial success. It earned $32.3 million on its opening day, a single-day record at the time (beating The Phantom Menace). It earned another $33 million the next day, re-breaking the record. Its opening weekend earnings of $90.3 million also beat the previous record holder of The Lost World: Jurassic Park ($72.1 million). It held the Thanksgiving weekend record for 12 years ($82.4 million), until both The Hunger Games: Catching Fire and Frozen surpassed it in 2013. That's impressive in and of itself. The Philosopher's Stone ended up being the highest grossing movie of 2001 with a total of $974 million, which at the time also made it the second highest earning movie in history. Through several re-releases since, it's earned over $1 billion in theaters, which made it the second film in the series to do so. It feels weird to say that the first movie passed that mark after the last one did.
Critics praised the movie as a faithful adaptation, even if some complained about the overstuffed narrative. Roger Ebert gave it a perfect 4 out of 4, specifically praising the visual effects during the Quidditch match. Variety's review interestingly compared this movie positively to "Gone with the Wind", also saying "the script is faithful, the actors are just right, the sets, costumes, makeup and effects match and sometimes exceed anything one could imagine." Having recently seen Gone with the Wind, I really don't understand why someone would bring it up in a Harry Potter review.
The movie received three Academy Award nominations, for Best Art Direction, Best Original Score, and Best Costume Design. It won an award at the Costume Designers Guild Award, a casting award from the Casting Society of America, and Grint specifically won the Outstanding New Talent award at the Satellite Awards as well as the Most Promising Young Newcomer award at the Young Artist Awards. Watson also won at the Young Artist Awards, for Best Performance in a Feature Film – Leading Young Actress.
As for my own thoughts, Harry Potter and the Philosopher's Stone isn't quite perfect. However, most of this movie's flaws can be pointed towards the younger cast. Yes, both Grint and Watson give very strong performances in their roles. However at times Radcliffe is somewhat dry. That can be attributed to his youth, as he greatly improves his performance in the second movie. Some of the other young actors aren't all that special either, but they too improve as the series go on. Rickman on the other hand steals the show as Snape. He was apparently told his character's final fate before filming began, and when you know his eventual fate and what side he's on, you can see it in his performance. He's got the perfect mix of a generally cold personality, a mysterious aura, and genuine concern for his students.
From a visual standpoint, this movie in some ways surpasses what fans of the book hoped for. Even without reading the books ahead of time, I was impressed by the visual creativity when I saw this movie for the first time. And although some of the CGI effects have clearly aged, they are by no means terrible. They still look relatively clean, and they're never on-screen for so long that they're distracting. You've got weird shaped buildings in Diagon Alley, the impressive sets used for Hogwarts, and other bright and colourful environments that contrast with a decent, but kind of dull Dursley home.
As for the story, you could argue that the first six Harry Potter books are in truth, mystery books disguised as fantasy. There's a great sense of wonder and discovery with the movie's setting and characters, but the story really works because of the deep mythology established in the first book, and the mystery of who is trying to get the Philosopher's Stone … and why. It's a mystery told well with a couple of red herrings, the characters slowly figuring out what's going on, and using their wits more than their magical skills. When you realize it's truly a mystery story in a fantasy world, it becomes all the more brilliant.
It's a very close adaptation of the original book. Sometimes that doesn't work out so well for the movie, but in this case, it is for the most part a very good thing. It tells the story clearly, without spending too much time telling us things instead of showing us. There were a handful of changes, like a couple of the ghosts being removed, the people getting detention are changed around, and the location where Harry and Draco Malfoy first meet. But for the most part, the movie is very close with the book. This is partly because Columbus worked closely with Rowling whenever changes were made, like added dialogue. There was apparently one line of dialogue that was removed because it directly contradicted the yet to be released book for The Order of the Phoenix.
If you haven't tried out Harry Potter, but you're curious to see why so many people love this series, this movie is a great place to start. For newcomers, there's a great sense of wonder, a fun little adventure, and a fantastic cast of characters with distinct personalities. And as much as the books are intended for kids, it's still an intriguing movie for adults who enjoy lighthearted fantasies. Not that this series stays light-hearted mind you. Even by the third movie it starts to get kind of dark.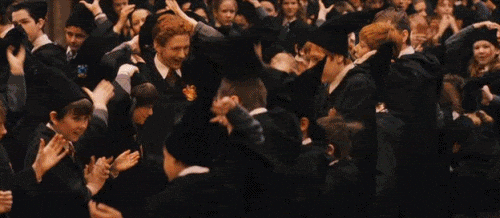 Next up is Harry Potter and the Chamber of Secrets, which is where the main trio start coming into their own as actors. Before then though, there will likely be another edition of Adventures in Home Ownership.