Several major plot elements in this movie rely heavily on Avengers: Endgame spoilers. However, I believe it's possible to talk about this movie without spoiling either this or Endgame. I'll do my best. However at the least, I will be discussing plot elements from Avengers: Infinity War.
Spider-Man: Far From Home is equal parts sequel to Spider-Man: Homecoming and the two-part Avengers movie that just released in the last two years. Although it's hard to fully grasp the emotional weight behind this movie without first seeing Endgame, a lot of the Spider-Man focused stuff only requires you to see Homecoming first.  That kind of makes this a strange follow-up in that sense. The basic plot is that Peter Parker is going on vacation with his friends, but Nick Fury and a situation with a supervillain get in his way. It's kind of a typical Parker luck story, just taking place in Europe instead of New York.
This also happens to be the first Spider-Man movie ever made that doesn't primarily take place in New York. It's a refreshing change of scenery for our wall crawler, yet it doesn't make this feel like any less of a Spider-Man movie.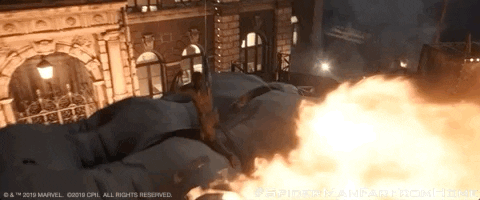 Spider-Man was among the superheroes who got dusted along with half of the universe in Avengers: Infinity War, in what is probably the hardest scene in that movie to watch. There's something especially rough with Spider-Man's passing when he can feel it coming before anyone else, and he's clearly scared. Obviously because this movie exists as a sequel to Endgame, Spider-Man is back, along with other characters. But there are multiple aspects of that movie's aftermath that effect Spider-Man both as a superhero and in his personal life.
Most of Parker's character development in this movie is him finding his place in the world. There's a large gap in the superhero world, and a lot of people are hoping Spider-Man will fill it. He doesn't want that responsibility – he'd rather be a friendly neighborhood Spider-Man, and let more experienced superheroes take on the big roles. He so wants to avoid that responsibility so much that he's quick to pass it on to someone else. More specifically, someone who isn't as trustworthy as he first seems.
Enter Mysterio. In the comics, he's one of Spider-Man's major villains, and he can be a powerhouse at that. This movie first presents him as a hero, and he actually seems like a noble man from another dimension. Anyone who knows about Mysterio knows there's some sort of twist coming, and the twist we get is very well done. The scene where his true intentions maybe goes on a bit too long, with a speech hat introduces a few too many minor characters at once. It does tell us how he pulled off what he did; it probably just should have been sprinkled throughout the rest of the movie more. Jake Gyllenhaal is convincing both with his hero personal and as a villain. In fact I'd go so far as to say that his performance kind of steals the show here.
That's not to say the other performances weren't good either. Tom Holland was good in his previous appearances as Spider-Man, but his performance is even better here. He shows more emotional range, whether it be his subtle confused glances when Aunt May and Happy interact as if they're very close, or deep emotional moments where he reflects on everything that's happened recently. I'm convinced he is by far the best Spider-Man casting we've got so far. Samuel L. Jackson's brief role as Nick Fury is great as always. Marisa Tomai is excellent as the supportive aunt, to the point where when they're on screen together, it's actually convincing that Peter and May are related. Jon Faverau's role as Happy is bigger in this movie than I expected.
Normally I start with all the behind the scenes details before the main body of the review, but I felt it was worth doing it the other way around this time, just to see how it works. Anyway, they announced in June of 2016 that Sony and Marvel Studios were working together on multiple Spider-Man movies, and that they'd attempt to follow the Harry Potter model. Basically, each Spider-Man movie would look at a different year of high school for Peter. Shortly after Homecoming's success in 2017, they announced plans to release the second Spider-Man movie in 2019. That made it a bit of a challenge considering Spider-Man got dusted in Infinity War, but they didn't allow that to change their plans. If anything, this movie kind of benefits from Parker's fate in Infinity War in a weird way.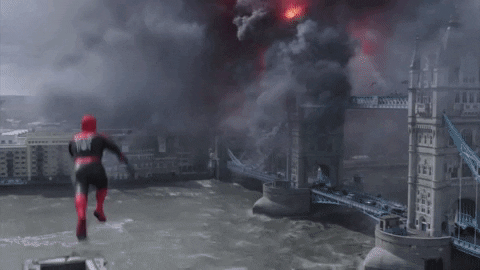 Homecoming was also stated to begin very shortly after the conclusion of Endgame, making it a direct aftermath film. Most of Parker's friends were also dusted, including Ned and MJ. Other classmates have aged 5 years and are completely different people. Director Jon Watts described this as "really weird … but … also something you can have a lot of fun with." This movie certainly takes advantage of the more entertaining aspects of that potential.
It didn't take long for Jacob Balaton and Zendaya to agree to reappear as Ned and MJ respectfully. Months later, Gyllenhaal agreed to portray Mysterio. Although Michael Keaton agreed to appear in the movie as Vulture again, his role was ultimately cut from the film. Most of the filming took place around London England, with other film locations including Venice, Italy, and Prague and Liberec in the Czech Republic.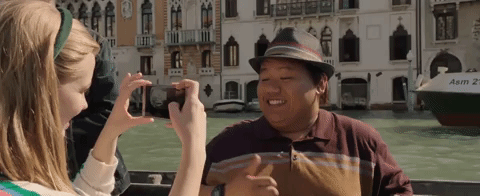 Considering Spider-Man got dusted in Infinity War, it forced Sony to decide whether they'd begin advertising the movie after Endgame released to avoid spoilers, or begin advertising before and spoil the fact that Peter Parker would return.  They decided to go with the latter. They just decided that early trailers wouldn't mention anything about Infinity War or Endgame, almost as if to pretend that this movie takes place before Infinity War.
Despite being out for less than a month as of this writing, Far From Home is only $8 million short of Homecoming's entire worldwide profits of $880 million. In fact, original projections said it would earn around $500 million in its first 10 days. It earned $80 million more than that. It's hard to say at this point exactly how much Spider-Man: Endgame will earn, but being the MCU's 3rd $1 billion movie of the year is not out of the question at this point.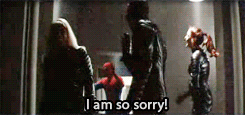 This picture is completely fake, but I thought it was funny anyway.
For the most part, critics praised this movie as well. It enjoys a 90% rating on Rotten Tomatoes, with even the lukewarm reviews complimenting the performances. The Wrap said, "If anything, and this is a compliment, the film frequently feels like a charming teen road-trip comedy that occasionally turns into a superhero movie." Indiewire was less positive, giving the movie a C and calling the movie an "unadventurous bit of superhero housekeeping that only exists to clean up the mess that Avengers: Endgame left behind." That reviewer also said, "But the Spider-Man we find at the end of the movie is no different than the one we met at the start; he's more confident now, and ready to accept a truth of his own design, but you can't help but feel like he could have learned all of the same things without leaving Queens or wasting our time." One is allowed to not like a movie, and there are valid criticisms that stop this movie from being great, but this guy contradicted himself in the same sentence.
Anyway, I really liked this movie. I'd say it's at least a bit better than Homecoming, and Homecoming was also good. I like how this is a coming of age story for Peter Parker, as he grows through his mistakes and begins his journey to become the superhero the world needs him to be. Mysterio is a fantastic villain, and he's done in such a way that it'll certainly affect how you see this movie on repeat viewings, looking for hints along the way. The action is great. The comedy is funny far more often than not. But I can also see why some people may find Far From Home at least somewhat formulaic.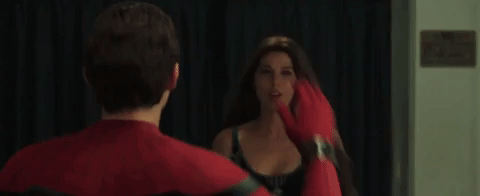 As of the end of Spider-Man Homecoming, Aunt May knows that Peter is Spider-Man. This movie shows May being very encouraging and level headed with it, which just feels right.
Between writing and editing this post, they announced most of the MCU's Phase 4 lineup. Next year we're supposed to see Black Widow and The Eternals, as well as a Falcon and Winter Soldier series. As much as I'm not sick of these movies, I could see the benefit of the MCU taking at least one year off before they begin Phase 4. After all, we've seen 23 movies released in 11 years, concluding with what may be the biggest cinematic event in history (Endgame). But it looks like that's not happening.
Anyway, that's all of my blogathons caught up with. I'm planning on watching at least one DreamWorks movie before the end of the month to continue that long delayed blogathon, and hopefully a second by the end of the month. Next month will be Robin Williams month, and I may do a Bad Movie month before I start my Disney Associated Movies blogathon after that.